Sister Winemaker's Sweet and Spicy Pecans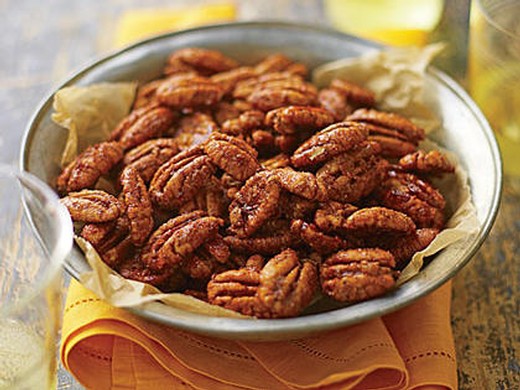 Recipe Date:
March 26, 2020
Measurements:
Imperial (US)
Ingredients
2 cups Shelled Pecan Halves
2 tsps Ceylon Cinnamon (*if using regular [Cassia] – 1 teaspoon)
2 tsps Chili Powder
1 tsp Cumin
1/2 tsp Cayenne
1/2 tsp Ground Ginger
1 tsp Salt
3 tbsps unsalted butter, melted
2 tbsps packed light brown sugar
Directions
Preheat oven to 400 degrees F. Spread pecans on a baking sheet in a single layer. Roast for 8-10 (I do 8. If you do more, shake the pan ½ way through) minutes until nuts are fragrant and light, golden brown.
While the nuts are roasting, combine cinnamon, chili powder, cumin, cayenne, ginger, and salt in a small bowl. Have melted butter ready to go when nuts come out.
Remove nuts from oven and place in a bowl. Toss with melted butter and spice mix combining evenly. Lastly toss in the brown sugar. Let cool and serve.