Loaded Sweet Potato & Sausage Soup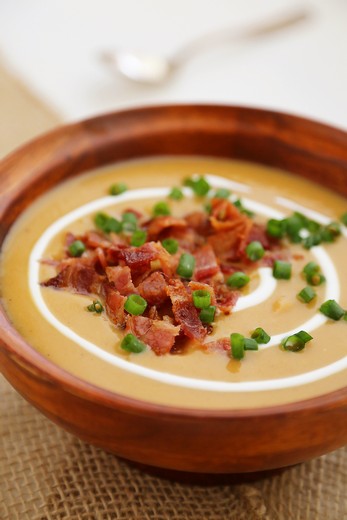 Recipe Date:
February 1, 2021
Measurements:
Imperial (US)
A more nutritious take on Loaded Baked Potato Soup.
Ingredients
20 ozs frozen, cubed Butternut Squash
16 ozs frozen, cubed sweet potatoes
2 cups coconut milk - Lite
4 cups chicken stock
1/2 tsp garlic powder
1 tsp dried basil
1 tsp salt
1/2 tsp black pepper
1/2 tsp thyme
1/2 tsp turmeric
1/4 tsp cayenne pepper
1/4 cup coconut oil or butter
2 medium yellow onions (or a container of already diced will do fine!)
1 lb sausage (mild or spicy to taste – we used mild)
Directions
Prep Butternut Squash & Sweet Potatoes according to package directions. We did squash in oven at 350 degrees for 20 minutes and sweet potato in microwave with a little bit of water for 5 minutes.
While that is going on, put stock and spices into a large pot, start warming.
Put coconut milk & sweet potatoes into the blender and blend to a puree consistency.
Add roasted squash to blender (might need some of the stock from the pot), blend to puree consistency, and pour into pot
Brown &drain the sausage, pat off fat, and add to pot. Lightly, wipe out skillet with a paper towel.
Dice the onions and cook in the skillet with butter (or coconut oil) a few minutes until soft then add to the pot.
Continue heating on low until soup is warm. Serve.
Notes:
The way to blend and the consistency of the squash and sweet potatoes are according to your liking. You can dump all in the pot and use an immersion blender, use a food processor, puree half of the squash and potatoes and let the soup be more chunky….
Optional toppings:
We used: sour cream & shredded cheddar.
Like in the picture, you could also add green onions, bacon, Pepitas, and what ever else you like on a loaded baked potato.