Randi's A-Freaking-Mazing Artichoke Dip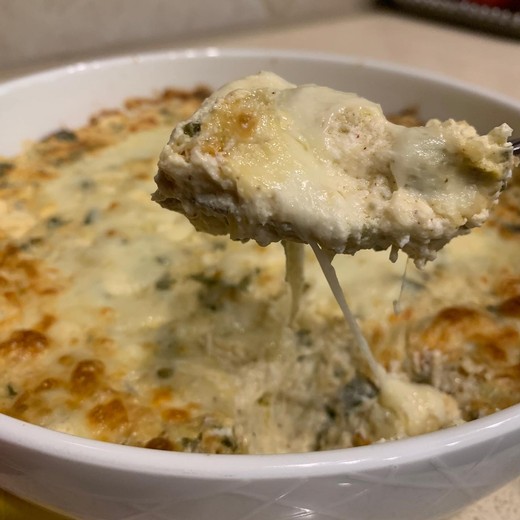 Recipe Date:
April 14, 2021
Measurements:
Imperial (US)
Easy to make but oh so delicious! As with most family recipes, ingredient quantities are not precise!
Ingredients
8 ozs Cream Cheese
1/3 cup Sour Cream (Big dollop - 1/4-1/3 cup?)
1/4 cup Mayo (Dollop - 1/4 cup?)
1 can/jar of artichoke hearts, non-marinated, drained & chopped
Fresh Garlic or Garlic Salt to taste
Chili Powder
1 cup Mozzarella Cheese - divided
1 Fresh Jalapeno
2 cups Fresh Spinach, chopped
Directions
1. Preheat oven to 350.
2. Warm the cream cheese in microwave for 2 min at 50% power. Don't skip this step-makes it much easier to blend with everything.
3. Mix all ingredients together in a bowl. Use about half of the Mozzarella. Be generous with the chili powder! The sour cream and cream cheese act to "cool" the dip, so don't be shy!
4. Bake 30-40 minutes until heated throughout.
5. Sprinkle on the remaining Mozzarella and cook until the cheese is browned.
6. Enjoy with Bent Oak Wine. 😊