Gourmet Ham Sandwiches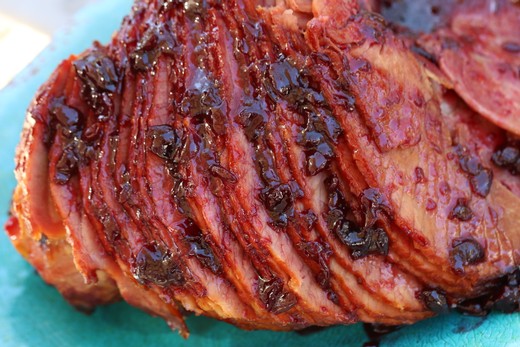 Recipe Date:
April 19, 2022
Measurements:
Imperial (US)
A slow cooker ham is a great twist on a holiday dish, doesn't take up your oven space, and offers endless variations for the glaze. At Bent Oak Winery, we've also done a honey bourbon glaze and a brown sugar pineapple glaze. All on potato or Bolillo rolls and served with a bag of chips to create Sister Winemaker's Gourmet Ham Sandwiches.
Ingredients
13 ozs Jar (or 1 1/2 cups) Cherry Preserves
1/4 cup Brown sugar
2 tbsps Balsamic Vinegar
2 tbsps Mustard
2 tsps Fresh Thyme, chopped
1 Ham, pre-cooked ham - I used the spiral cut boneless but bone-in would be very yummy
Directions
Toss the glaze packet in the trash.
Spray inside of crock pot with Pam.
Mix all ingedient, except the ham, in a small saucepan and simmer a few minutes over medium heat.
Pour 1/4 of the glaze mixture into bottom of crockpot.
Pour juice from ham packaging into crockpot as well. Cut the ham as necessary to fit in crockpot and seperate the slices before pouring on the rest of the glaze.
Slowly pour on the remaining glaze and cook on Low 4 to 6 hours. Every hour or so, use a turkey baster to pour juices down in between the slices and over the ham as it all cooks together.
Heating the rolls is optional as is using a bit of corn starch to thicken the glaze.
Serve ham sandwich with glaze over the ham and a nice bag of chips.