Wine of the Month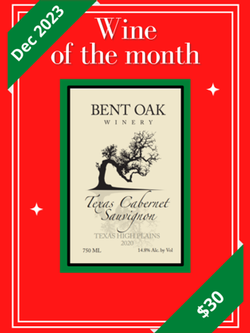 No club discounts apply to this special price.
Bottle $30 (retail $48) 37% discount
Case $320 (retail $576) 45% discount ($26.67 per bottle)
Cabernet Sauvignon is a challenging grape to grow in Texas, however, the Texas High Plains exhibits cool enough evenings during the growing year to support proper ripening. We source our Cabernet Sauvignon from from the Texas High Plains to and produce a wine with distinct black fruit, plum, white pepper, a hint of spice and well integrated oak. While this Cabernet Sauvignon is a pleasure to drink now, it will age gracefully for years.
Tasting Notes: Beautiful bouquet of dark fruit with a hint of spice. Cassis and black cherry with a soft pepper and tannin finish.
Recommended Food Pairings: Ribeye steak, barbeque beef ribs, pot roast, rich, dense pasta with deep marinara, and fantastically with an Arturo Fuente, sun-dried wrapper cigar.
Recipe of the Month: Beef Bourguignon
Awards: Note yet!
Product Reviews