Wine of the Month Package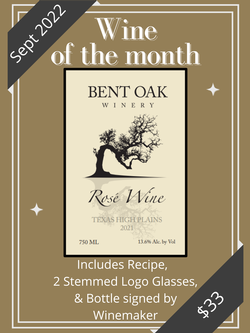 No club discounts apply to this special price.
Not only are we introducing the new wine of the month package special but we are also introducing our new 2021 Rosé (a blend of Sangiovese Rosé and Mourvedre Rosé). The package this month includes a signed bottle of 2021 Rosé by Mr. Winemaker (retail $28), 2 stemmed glasses (retail $24), and a perfect pairing recipe for Harvest Pizza (mozzarella, red grapes, rosemary, gorgonzola, and honey) (retail $3).
Product Reviews