Wine of the Month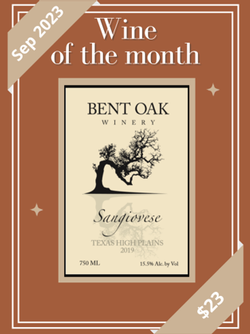 No club discounts apply to this special price.
Bottle $23 (retail $36) 36% discount
Case $240 (retail $432) 44% discount ($20 per bottle)
Sangiovese is an Italian grape that has found a home in Texas. Our Sangiovese is harvested from Buena Suerte Vineyards in the wind-swept Texas High Plains. We age our Sangiovese in French Oak for nine months to allow the wine to mature gracefully and round out its earthiness and complexity.
Tasting Notes: Strawberry on the nose with tart cherry, earthy palette
Recommended Food Pairings: Paella, short rib ragu, roasted quail, wild boar, Italian food featuring rich marinara.
Recipe of the Month: Pepperoni Bread
Awards:
Gold:
2022 San Antonio Stock Show & Rodeo International Wine Competition - Texas Class Champion
2021 San Antonio Stock Show & Rodeo International Wine Competition
Silver:
2022 Lone Star International Wine Competition
2021 San Francisco International Wine Competition
2021 Houston Rodeo Uncorked! International Wine Competition
2021 Lone Star International Wine Competition
Bronze
2023 Texas International Wine Competition
2023 San Antonio Stock Show & Rodeo International Wine Competition
2023 Houston Rodeo Uncorked! International Wine Competition
2022 San Francisco Chronicle
2022 Houston Rodeo Uncorked! International Wine Competition
2021 Texas International Wine Competition
2020 San Francisco International Wine Competition
2020 Lone Star International Wine Competition
Product Reviews