Valentine's Dinner Beef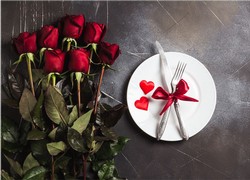 Wednesday, February 12th, 7:00 to 9:00 pm
Beef Main Course Option
We invite you to join us for a romantic evening at Bent Oak Winery for an intimate wine dinner experience. Arrive to a warm and inviting wine reception before sitting down to 4-course dinner seamlessly paired with our award-winning wines. Make this day one you'll both remember for years to come!
Tickets are $90 ($85 for Bow Wow Members) per person.
Doors open at 6:45 pm and event starts at 7:00.
NOTE: $5 discount for members will display in the shopping cart. 48 hour cancellation policy.
Welcome Reception
Passed Hors d'oeuvres
thyme roasted grapes & herbed chevre crostini garnished with toasted walnuts & honey
shrimp n' grit bites sautéed shrimp on white cheddar-Tasso grit cakes, drizzled with scallion butter
2017 Lone Star Cuvée
Dinner
Rustic Texas "1015" Onion Tart
savory pastry filled with caramelized sweet onions, gruyere cheese, and cream
2018 Roussanne
Texas Wedge Salad
crumbled blue cheese, bacon, oven dried tomatoes & buttermilk dressing
yeast rolls with herbed butter
2018 Mourvedre
Coffee Crusted Grilled Beef Tender
served with jalapeno béarnaise
Yukon gold potato & leek galette with gruyere & parmesan and wilted swiss chard
2018 Texas Cabernet Sauvignon
OR
Pan Roasted Texas Redfish
served with sweet corn, red pepper, onion & champagne vinaigrette
Yukon gold potato & leek galette with gruyere & parmesan and wilted swiss chard
2018 Texas Viognier
Flourless Chocolate Torte
garnished with fresh raspberries, raspberry coulis & whipped cream
2018 Vesenillo