Turkish Olives Pairing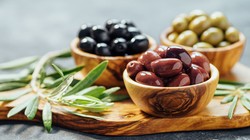 Tastes of Smyrna Farms: Turkish Olives Pairing
by Gulay Akkus Nart
Tuesday, October 11th, 6:30 p.m to 8:30 p.m. in the Tasting Room - doors open at 6:15 p.m.
Gulay Akkus Nart of Smyrna Farms is back presenting a Turkish olives and wine pairing. Join us for this unique and wonderful event. For those of you who attended our Tour of Turkey event, you know Gulay will provide us with another awesome evening.
Sliced Olive Salad with Chardonnay
Grilled Olives with Roussanne
Black Olive/Sun dried tomato/Rosemary with Rose
Blueberry & Beet Olives with Sangiovese
Turkish Dry Baklava
In addition to the pairings above, you will receive an individual plate of cheese, bread, and olive oil dip to help cleanse your palate in between pairings.
NOTE: $5 discount for members will display in the shopping cart.
Product Reviews