Thanksgiving Zin & Chard PK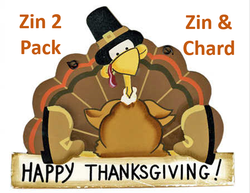 Alternative perfect pairing for your Thanksgiving Dinner!
Offer your family and friends the perfect red (Zinfandel Reserve) or white (Chardonnay) to go with the Turkey or Ham and all the fixins! Or maybe you are having beef? Get Bent Oak wine to let them know you care!
Enjoy a 37% discount on this 2 bottle package.
Product Reviews