Tasting To Go with Glass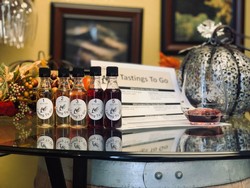 Now you can enjoy a wine tasting in the comfort of your own home! You will receive 1.5 ounces each of the same 5 wines that we are serving in the tasting room along with a tasting menu that explains the tasting notes and food pairing options for each wine and a Bent Oak Winery stemless glass. Match up the number 1 through 5 on your tasting bottles with the numbers on your tasting menu as you work your way through the wine tasting.
Host your own COVID safe wine tasting with your pod. Give a thank gift to your employees along with a gift certificate to Bent Oak for them to buy their favorite wine from the tasting. Give as a hostess gift...
Product Reviews