Sugar Mama's Bakeshop Cupcake Valentine's Pairing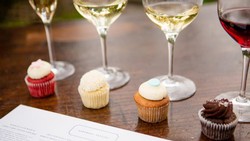 Tuesday, 02/14, 6:30 to 8:30 pm
Enjoy the 5 wonderful pairings of Bent Oak Wine with Sugar Mama's Bakeshop Mini Cupcakes. The Baker and Mr Winemaker will discuss the shared and/or opposing qualities that make each of these pairings perfect:
Pairings are still being determined.
Sugar Mama's will be bringing along full-sized versions of their cupcakes and cookies for you to purchase and take home.
Product Reviews