Sugar Mama's Bakeshop Cupcake Pairing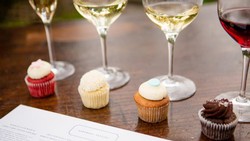 Monday, 12/05, 6:30 to 8:30 pm
Enjoy the 5 wonderful pairings of Bent Oak Wine with Sugar Mama's Bakeshop Mini Cupcakes. The Baker and Mr Winemaker will discuss the shared and/or opposing qualities that make each of these pairings perfect:
2019 Trebbiano TX - Notorious FIG- honey cake/goat cheese filling/ cream cheese icing/fig caramel/toasted pistachios
2019 Viognier TX - Lil' Gumdrop Mountain- Gingerbread cake/lemon buttercream/ sprinkles/ gingerbread cookie on top
2018 Pinot Noir Reserve CA - Red velvet Oreo- red velvet cake/ Oreo buttercream/ chocolate fudge drizzle/ topped with a mini Red velvet whoopie pie
2018 Cabernet Sauvignon Reserve CA - Christmas night-chocolate cake/ cherry filling/ almond chocolate buttercream/ almond praline shard
2018 Vesenillo TX - Tiramisu- vanilla cake soaked in coffee & liqueur mix/ mascarpone filling/ topped with whip cream and cocoa powder
Sugar Mama's will be bringing along full-sized versions of their cupcakes and cookies for you to purchase and take home.
NOTE: $5 discount for members will display in the shopping cart. Our refund policy: 48 hours cancellation notice. Doors open at 6:15 PM.
Product Reviews