Riedel Performance Tasting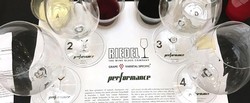 Wednesday, 10/09, 7:00 to 9:00 pm.
Bent Oak Winery and Riedel invite you to put your nose and taste buds to the test with our Riedel Glass Tasting featuring hand selected wines, designed to give you the experience of a lifetime. Delve into the history of the world-renowned glass making family and experience the impact that the size and shape of a glass has on your favorite wine. This fun and informative tasting will be hosted by Riedel Representative Forrest "Buzz" Whalen.
Each guest will receive a 4-glass red/white wine tasting kit that will be theirs to keep (a $120 value!!). You will never drink wine the same way again. From newbies to the world of wine, to the most seasoned connoisseurs, this seminar is not one to miss!
Doors open at 6:00 pm.
NOTE: $5 discount for members will display in the shopping cart. 48-hour cancellation policy.