Painting with Paper: Bluebonnets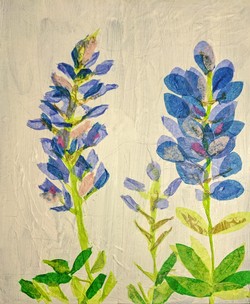 Painting with Paper: Bluebonnets
We'll have fun using paper to "paint" some bluebonnets. Everyone will get an 8x10 canvas or canvas board, brushes, and tissue paper to use on your project (Laura will include written instructions to take home in case you don't complete your project on site). You'll get to play around and experiment with how wet you can get paper and learn how it "runs" when you tear it. You can be fully abstract or lean more realistic - whatever strikes your fancy!
We'll be using water and ModPodge, so dress accordingly, and save the manicure for the next day!
"I'm looking forward to our wine and art-making evening - best regards from your instructor - Laura Lincoln"
Monday April 24th 6:30 pm – 8:30 pm, doors open at 6:15 pm
Limited to the first 30 people! Get your ticket now!
Each attendee will receive: 1 Glass of Wine, Snacks, and their Painting with Paper Kit
NOTE: $5 discount for members will display in the shopping cart. 48-hour cancellation policy.
Product Reviews