Harvest Grape Stomp 2022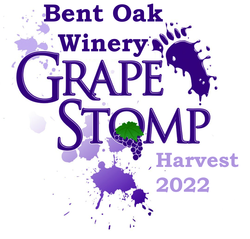 Squish & Stomp at the 5th Annual Harvest Grape Stomp
Saturday and Sunday, October 22nd & 23rd, 1:00 - 5:00 out back of the Tasting Room Building 2-B.
Harvest has been delayed due to weather issues in the High Plains. As a result we do not have any grapes to stomp just yet so we are moving out our stomp event for about a month. We are tentatively scheduling for the 1st weekend in October, but stayed tuned as we begin to get more information on the status of various grape varietals.
Join us for the squishing and stomping at the 5th Annual Harvest Grape Stomp!
Squishing and stomping the grapes in a barrel or bin (just like on I Love Lucy)
Recording your stomp by stepping on your tee shirt with your grape juice feet Go home with your commemorative foot-stained tee shirt.
Plastic logo glass
Barrel sampling of one varietal
NOTE: $5 discount for members will display in the shopping cart. 48-hour cancellation policy.
Product Reviews