Holiday Basket Raffle Ticket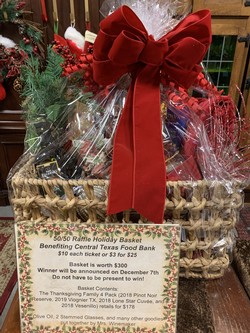 3 or more units
$8.33/unit
Raffle Ticket for a Holiday Basket worth $350
Bent Oak Winery will split the ticket sales 50/50 with the Central Texas Food Bank
$10 each ticket or 3 tickets for $25 (Do not have to be present ot win)
Join us in supporting the Central Texas Food Bank by purchasing a raffle ticket for one of Mrs. Winemaker's famous gift baskets. The raffle winner will be selected on December 10th (after we close) and will be announced in the December 13th email.
Basket Contents: 4 bottles of wine - The Thanksgiving Family 4 Pack (2021 Riesling TX, 2018 Pinot Noir Reserve, 2019 Viognier CA, and 2020 Cabernet Sauvignon TX) that retails for $192, 2 Stemmed Glasses, and many other goodies put together by Mrs. Winemaker worth about $350.
Note: This is an electronic ticket. A random drawing will be held on December 10th.
Product Reviews