Christmas Cookie Swap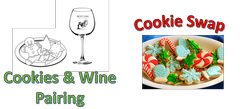 Wednesday, 12/11, 6:30 to 8:30 pm.
Enjoy a cookies and wine pairing. Additionally, each person should bring 2 dozen cookies to swap then enjoy picking out your 2 dozen cookies to take home. Note: bring your 2 dozen cookies on paper or plastic plates to place on the table to share. Also, bring your own container to take home 2 dozen.
Price includes a cookie and wine pairing as well as other small snacks.
Doors open at 6:00 pm.
NOTE: $5 discount for members will display in the shopping cart. 48-hour cancellation policy.