Cheese & Chocolate Pairing for the Tasting to Go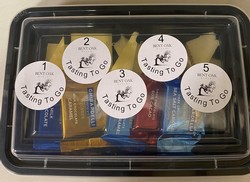 Curbside Only!
This is the perfect complement to your Tasting To Go! Now you can enjoy a wine tasting with a cheese & chocolate pairing in the comfort of your own home! You will receive 2.5 ounces of cheese which is 0.5 ounces to pair with each of the 5 wines in the Tasting To Go. Then you will finish the event with 5 individual chocolates each paired with one of the 5 wines. Match up the number 1 through 5 on your tasting bottles and pairing box with the numbers on your tasting menu as you work your way through the wine pairings.
Host your own COVID safe wine tasting with your pod. Give a thank gift to your employees along with a gift certificate to Bent Oak for them to buy their favorite wine from the tasting. Give as a hostess gift...
NOTE: Since these are not pre-made please allow us at least 15 minutes to prepare. Please indicate in your order the date and time you will be picking up.
Product Reviews