2019 Sangiovese Texas High Plains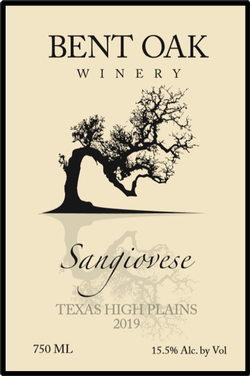 Texas is one of the oldest wine growing states in the US, with vines planted here more than a hundred years before they were planted in California or Virginia. In the 1650s, Franciscan priests planted Mission vines in West Texas, near modern day El Paso. The vines were a necessity in the production of sacramental wine used in the Eucharist. The horticulturist Thomas Munson used Texas vines to create hundreds of hybrid grapes and conducted significant research in finding root stock immune to the Phylloxera epidemic, which saved the French wine industry from total ruin. The advent of Prohibition in the United States virtually eliminated Texas' wine industry, which didn't experience a revival until the 1970s, beginning with the founding of Llano Estacado and Pheasant Ridge wineries in the Texas High Plains appellation near Lubbock and the La Buena Vida winery in Springtown. According to the Texas Grape and Wine Growers Association (txwines.org), Texas now has eight AVAs although many vineyards exist outside the specified AVAs.
Wine Specs
Appellation
Texas High Plains
Wine Profile
Tasting Notes
We age our Sangiovese in French oak to allow the wine to mature gracefully, rounding out it's earthiness and complexity, revealing fresh fruity flavors of tart cherry and spice with a hint of strawberry on the nose, and medium tannins.
Winemaker Notes
Sangiovese is a wonderful grape to work with, especially with its strawberry and tart cherry earthiness. Care is needed when barrelling Sangiovese as it readily takes on oak and can become almost tarry if not properly barrelled. Our Sangiovese was barrelled in both new and older French Oak barrels to provide the right environment for the wine to fully mature.
Food Pairing Notes
Paella, short rib ragu, roasted quail, wild boar, Italian food featuring rich marinara.
Product Reviews