2019 Aglianico Texas High Plains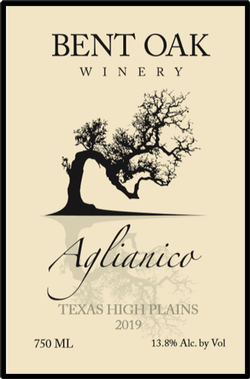 The Texas High Plains is the second largest AVA in Texas, comprising roughly 8 million acres in west Texas, mostly south of the panhandle region. The eastern border of the Texas High Plains AVA follows the 3000 ft. elevation contour line along the Caprock Escarpment, the steep transitional zone separating the High Plains from the lower plains to the east. The elevation within the Texas High Plains gradually increases from 3,000 ft. to 4,100 ft. in the northwest portion of the AVA. This positioning provides an environment of long, hot dry summer days, which allow the grapes to mature and ripen to proper sugar levels, and cool evenings and nights, which help set the grape's acidity levels. Grapes and wine have been produced in this region since the mid-1970's and vineyards here have become the major grape supplier to wineries throughout the state. There are over 75 Wine Grape Varietals planted in the High Plains AVA, including Cabernet Sauvignon, Chenin Blanc, Gewurztraminer, Grenache, Merlot, Malbec, Dolcetto, Mourvèdre, Sangiovese, Tempranillo, and Viognier.
Wine Specs
Appellation
Texas High Plains
Wine Profile
Tasting Notes
Hints of earth, tobacco and fig jam on the nose yielding to a complex, almost brooding, earthiness, with dried fig, and leathery tannic finish balanced by nice acidity on the finish
Winemaker Notes
Aglianico is a full-bodied red wine which is found almost exclusively in Southern Italy in the regions of Campania and Basilicata. Like other Mediterranean grape varietals, Aglianico has found a home in the Texas High Plains. The wine hints of tobacco and jammy aromas yielding to complex, brooding earthiness and dried fig on the palate. The finish is rich with tannins and balanced acidity.
Food Pairing Notes
BBQ meats, lamb, hearty dishes
Product Reviews