2017 Blanc du Bois Texas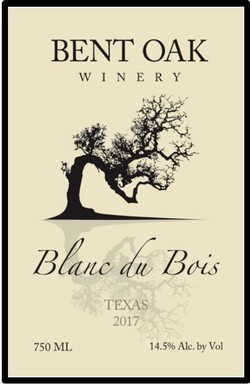 Texas is one of the oldest wine growing states in the US, with vines planted here more than a hundred years before they were planted in California or Virginia. In the 1650s, Franciscan priests planted Mission vines in West Texas, near modern day El Paso. The vines were a necessity in the production of sacramental wine used in the Eucharist. The horticulturist Thomas Munson used Texas vines to create hundreds of hybrid grapes and conducted significant research in finding root stock immune to the Phylloxera epidemic, which saved the French wine industry from total ruin. The advent of Prohibition in the United States virtually eliminated Texas' wine industry, which didn't experience a revival until the 1970s, beginning with the founding of Llano Estacado and Pheasant Ridge wineries in the Texas High Plains appellation near Lubbock and the La Buena Vida winery in Springtown. According to the Texas Grape and Wine Growers Association (txwines.org), Texas now has eight AVAs although many vineyards exist outside the specified AVAs.
Wine Profile
Awards
Gold-2019 San Antonio Stock Show and Rodeo Wine Competition; Silver-2018 San Francisco International Wine Competition; Bronze-2018 Lone Star International Wine Competition
Production Notes
128 Cases
Winemaker Notes
Pectin and thick skins are an issue with Blanc du Bois, so pectic enzyme is used at crush to help break down skins and pulp to ease pressing. We let the juice settle for 24 hours before introducing fermentation yeast. After 3 weeks of fermentation, the wine is racked to barrels - ½ American Oak and ½ neutral French Oak - for aging and maturation.
Food Pairing Notes
Stuffed peppers, shellfish, fish, cheeses and salads, creamy pasta dishes, light meats.