November 16, 2022 | Weekly News | Debbie Bruce
20221116 Weekly News Splash
Sugar Mamas Cupcake Pairing December 5th
Enjoy 5 wonderful pairings of Bent Oak Wine with Sugar Mama's Bakeshop Mini Cupcakes. The Baker and Mr Winemaker will discuss the shared and/or opposing qualities that make each of these pairings perfect.
2019 Trebbiano TX - Notorious FIG- honey cake/goat cheese filling/ cream cheese icing/fig caramel/toasted pistachios
2019 Viognier TX - Lil' Gumdrop Mountain- Gingerbread cake/lemon buttercream/ sprinkles/ gingerbread cookie on top
2018 Pinot Noir Reserve CA - Red velvet Oreo- red velvet cake/ Oreo buttercream/ chocolate fudge drizzle/ topped with a mini Red velvet whoopie pie
2018 Cabernet Sauvignon Reserve CA - Christmas night-chocolate cake/ cherry filling/ almond chocolate buttercream/ almond praline shard
2018 Vesenillo TX - Tiramisu- vanilla cake soaked in coffee & liqueur mix/ mascarpone filling/ topped with whipped cream and cocoa powder
Get Tickets HERE: $30 Members and $35 Non-members
---
Wine with CASA December 6th
Join us for a wine tasting in support of CASA of Williamson County. Limited seating will be available, in the Bent Oak Winery Tasting Room, with tickets available HERE.
Court Appointed Special Advocates (CASA) Program is a nonprofit organization that serves children in Williamson County, TX by training volunteers to become a "child's voice in court." CASA offers children the critical components of consistency and support, enhanced by the comfort of a long-term relationship. The CASA volunteer also known as GAL (Guardian ad Litem) becomes a friend to the child, explaining what is happening, addressing the child's fears, anger, and confusion. A CASA/GAL is a team member working in a collaborative effort with the Judges of Williamson County, the County Attorney's office, Child Protective Services, Attorneys ad Litem, teachers, therapists and other professionals involved in the childs case. We want to bring hope for a brighter future into the child's life.
If you are unable to attend on December 6th, please consider joining Bent Oak Winery in support of CASA with your DONATION.
---
SPECIALS
The Bent Oak Winery Team Chili Cookoff winner, Bryan Strempel, gets no rest this week as he is bringing back one of his favorite recipes, Butternut Squash Soup, which is perfect for our cool weather!
Food
Specials for Friday through Sunday:
$8 Butternut Squash Soup
$12 Soup & Wine Pairing
Wine
Thanksgiving is next week so get prepared by getting one of the packages below to accompany your big feast! And of course you'll need some extra wine to make it through the whole weekend with all of the shopping and football parties!
Tasting Menu::
2019 Trebbiano TX (bottle retail $28) - NEW RELEASE
2019 Viognier TX (bottle retail $36)
2019 Barbera TX (bottle retail $34) - NEW RELEASE
2018 Pinot Noir Reserve CA (bottle retail $62)
2019 Aglianico TX (bottle retail $48)
Tastings:
$20 Tasting with a logo glass
$15 Tasting without a logo glass
Glasses:
$9 Viognier TX (retail $12)
$9 Aglianico TX (retail $12)
$12 Pinot Noir Reserve CA (retail $18)
Packages:
$40 TX Do-Si-Do (retail $62): 2019 Barbera TX, 2019 Blanc du Bois TX
$65 Thanksgiving Zin & Chard PK (retail $100): 2018 Zinfandel CA, 2018 Chardonnay CA
$69 Thanksgiving CA Friends 2 PK (retail $106): 2018 Pinot Noir CA, 2019 Viognier CA
$115 Thanksgiving Family 4 PK (retail $178): 2018 Lone Star Cuvee, 2018 Pinot Noir CA, 2019 Viognier TX, 2018 Vesenillo TX
$135 Tasting Fab 5 (retail $208): 2019 Trebbiano TX, 2019 Viognier TX, 2019 Barbera TX, 2018 Pinot Noir Reserve CA, 2019 Aglianico TX
$179 Thanksgiving Love 6 PK (retail $276): 2018 Lone Star Cuvee, 2018 Pinot Noir CA (2), 2019 Viognier TX (2), 2018 Vesenillo TX
WINE OF THE MONTH - $40 (retail $62) - 35% Discount
Of Course, Pinot Noir Reserve
What better way to get ready for Thanksgiving than to get one of the perfect pairings for your Thanksgiving turkey or ham: the Pinot Noir Reserve! Our perfect pairing recipe for this month is a Cherry, Brown Sugar, and Dijon glaze on a Spiral Ham. Both oven and slow cooker (saving your oven for the turkey and ....?) instructions are included.
Case of wine only $450 (retail $744) - 40% discount ($37.50 per bottle)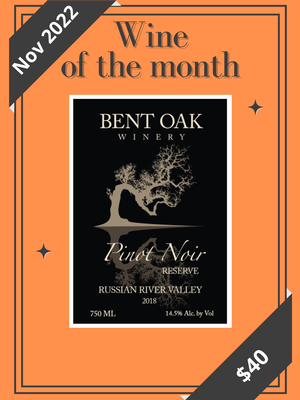 ---
Holiday Virtual Happy Hour This Week!
Thursday, November 17 at 6pm
Join Mr. Winemaker this week for the renewal of our monthly Virtual Happy Hour series. He will discuss the Thanksgiving classics: Chardonnay, Pinot Noir, and Viognier as well as potential varietals that can also be excellent choices.
Here's the LINK and the password is Turk3y! ("Turkey!" with a "3")
---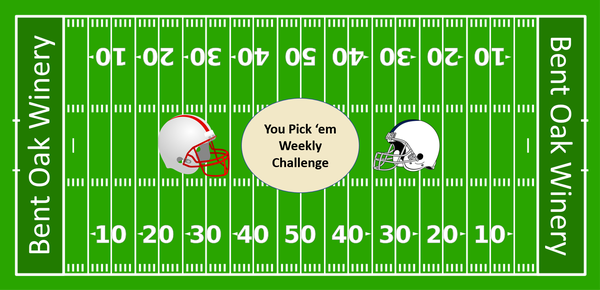 Are you ready for some football?
You can still get in on the fun and prizes even if you did not play each week! Join us for the weekly NFL You Pick 'Em game. You select the winners of each game and enter the total score of the Monday Night game. Get your entry in before the Thursday night game and good luck! (Note: You can modify the Sunday games until the 1st game starts on Sunday).
Winners:
Week 1: 2021 Rosé - Dave Treacy with 11 correct.
Week 2: 2021 Riesling - Sister Winemaker (Marilee Catalano) with 12 correct
Week 3: 2019 Sangiovese - Erin Hiserote with 12 correct & settled via tiebreaker
Week 4: 2018 Chardonnay - Jenn Love with 13 correct
Week 5: 2019 Dolcetto - Debbie Booher with 13 correct
Week 6: 2019 Sauvignon Blanc - Roger Parkhouse with 10 correct & settled via tiebreaker
Week 7: 2019 Texas Cabernet Sauvignon - Corey Houston with 11 correct & settled via tiebreaker
Week 8: 2019 Trebbiano - Laura Brown with 14 correct
Week 9: 2019 Barbera - Jill Clary with 11 correct
Week 10: 2019 Viognier TX - Laura Brown with 12 correct
Week 11: 2019 Aglianico TX - TBD
---
Upcoming Dates
Check out these important dates!
Smooth Jazz Sunday (2:00-4:45):
December 4th, Rodney Howell
Wine Down Fridays (3:30-6:30):
November 18th, Ella Reid
November 25th, Jazz Daddies on Black Friday
Holiday Hours November 23rd (1:00-5:15 PM) and November 24th (Closed)
Sugar Mama's Cupcake Pairings December 5th (6:30-8:30 PM)
CASA Pocket Party December 6th (6:30-8:30 PM)
Upcoming Wine Club Release Pick Up Parties:
2023 Q1 - January 28th/29th - new date
2023 Q2 - April 15th-16th
2023 Q3 - July 8th-9th (inside the Tasting Room)
2023 Q4 - October 28th-29th
---
Reservations are recommended to ensure you get a table, but walk-ins are available on a first-come-first-served basis. Online ordering with contactless curbside pickup remains available.
WED-SAT 1:00-7:00 PM
SUN 12:30-5:00 PM
We hope you find this email informative and we look forward to seeing you soon!
Cheers,
The Bent Oak Winery Team
Comments
Commenting has been turned off.