November 8, 2022 | Monthly Newsletter | Debbie Bruce
20221102 Get Bent Newsletter 2022-11
Bent Oak is One of the Best Wineries in Texas
According to Happy To Be Texas, we are the 4th Best Winery in Texas! Check out the write-up about us at this link: 17 Best Wineries in Texas.
We are honored to have another accolade come our way! We like to let our awesome wines speak for themselves, and do very little advertising, but a special thanks to you for helping to get the word out about the hidden gem of Cedar Park!
---
Holiday Craft Night November 7th

Last week to grab your tickets!
Please join us for a great night of fun at everyone's perennial favorite: Holiday Craft Night.
This year you will have 2 craft options to make:
Cork Christmas Tree (5 tickets left)
Wood Burning (with non-toxic chemicals!) Project of a serving tray and 2 ornaments or coasters. (10 tickets left)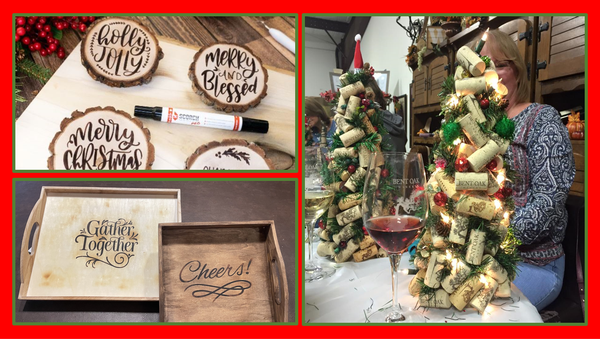 All materials and instructions are included as well as snacks and a glass of wine! Seats are limited so you'll want to reserve your spot as soon as possible.
Get Tickets HERE: $40 Members and $45 Non-members
---
Sip 'n' Shop is November 12th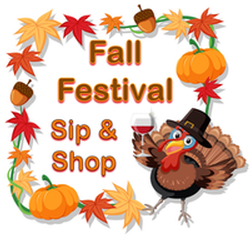 Get your Christmas shopping done while sipping delicious Bent Oak wine! Local artisans will have their wares on display outside the winery between the hours of 1:00-6:00 PM. Also, you can judge the chili from the Bent Oak team's hotly contested Chili Cook-Off.
There is still some space left for your very own 10x10 booth. We would love to have you! Reserve your space here: /Wines-and-Shop/Event-Tickets.
---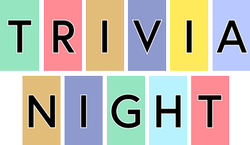 BOW-Wow Trivia Night is Monday, November 14th, 6:30 to 8:30 PM. Grab your friends to form a team or join up with a group and make new friends! We will have some wine questions thrown in with various general category questions. Get your tickets today as they always go quickly!
Get Tickets HERE: $25 Members and $30 Non-members
---
SPECIALS
Sister Winemaker is getting her Paesana on as she is making one of our favorite recipes, Italian Wedding Soup. We all can't wait to see how it pairs - we are thinking the new Trebbiano, but we never know until we taste!
Food
Specials for Friday through Sunday:
$8 Italian Wedding Soup
$12 Italian Wedding Soup & Wine Pairing
Wine
This is the 2nd week of the new tasting menu showcasing our October Release as we introduce two new wines: 2019 Trebbiano and 2019 Barbera. Additionally, our October Release is getting you ready for the holidays with the wines that go oh so well with your holiday dinners like the Pinot Noir and Viognier (both the Texas and California versions!) Check out our Thanksgiving packages below.
Tasting Menu::
2019 Trebbiano TX (bottle retail $28) - NEW RELEASE
2019 Viognier TX (bottle retail $36)
2019 Barbera TX (bottle retail $34) - NEW RELEASE
2018 Pinot Noir Reserve CA (bottle retail $62)
2019 Aglianico TX (bottle retail $48)
Tastings:
$20 Tasting with a Logo Glass
$15 Tasting without a Logo Glass
Glasses:
$9 Trebbiano TX (retail $12) NEW RELEASE
$9 Barbera TX (retail $12) NEW RELEASE
$12 Pinot Noir Reserve CA (retail $18)
Packages:
$40 TX Do-Si-Do (retail $62): 2019 Barbera TX, 2019 Blanc du Bois TX
$65 Thanksgiving Zin & Chard PK (retail $100): 2018 Zinfandel CA, 2018 Chardonnay CA
$69 Thanksgiving CA Friends 2 PK (retail $106): 2018 Pinot Noir CA, 2019 Viognier CA
$115 Thanksgiving Family 4 PK (retail $178): 2018 Lone Star Cuvee, 2018 Pinot Noir CA, 2019 Viognier TX, 2018 Vesenillo TX
$135 Tasting Fab 5 (retail $208): 2019 Trebbiano TX, 2019 Viognier TX, 2019 Barbera TX, 2018 Pinot Noir Reserve CA, 2019 Aglianico TX
$179 Thanksgiving Love 6 PK (retail $276): 2018 Lone Star Cuvee, 2018 Pinot Noir CA (2), 2019 Viognier TX (2), 2018 Vesenillo TX
WINE OF THE MONTH - $40 (retail $62) - 35% Discount
Of Course, Pinot Noir Reserve
What better way to get ready for Thanksgiving than to get one of the perfect pairings for your Thanksgiving turkey: the Pinot Noir Reserve! Our perfect pairing recipe for this month is a Cherry, Brown Sugar, and Dijon glaze on a Spiral Ham. Oven and slow cooker (saving your oven for the turkey and ....?) instructions are included.
Case of wine only $450 (retail $744) - 40% discount ($37.50 per bottle)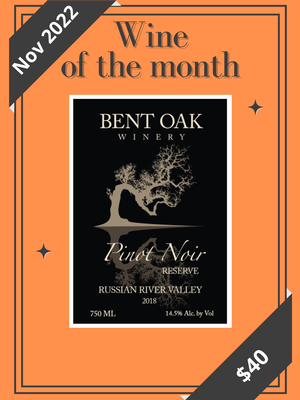 ---
Holiday Virtual Happy Hour
Thursday, November 17 at 6pm
As Harvest 2022 is behind us and our wines are maturing in barrel, we will begin our Virtual Happy Hour series on a monthly basis. The first date is Thursday November 17 at 6pm in which we will discuss the Thanksgiving classics, Chardonnay, Pinot Noir, and Viognier as well as potential varietals that can also be excellent choices.
Here's the LINK
---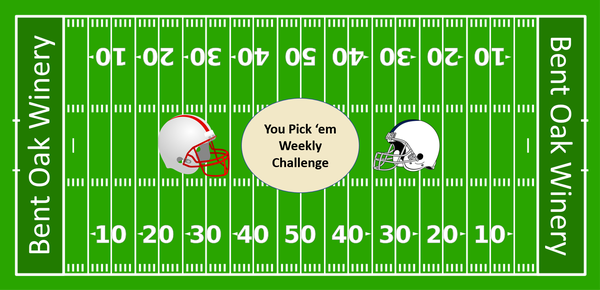 Are you ready for some football?
You can still get in on the fun and prizes even if you did not play each week! Join us for the weekly NFL You Pick 'Em game. You select the winners of each game and enter the total score of the Monday Night game. Get your entry in before the Thursday night game and good luck! (Note: You can modify the Sunday games until the 1st game starts on Sunday).
Winners:
Week 1: 2021 Rosé - Dave Treacy with 11 correct.
Week 2: 2021 Riesling - Sister Winemaker (Marilee Catalano) with 12 correct
Week 3: 2019 Sangiovese - Erin Hiserote with 12 correct & settled via tiebreaker
Week 4: 2018 Chardonnay - Jenn Love with 13 correct
Week 5: 2019 Dolcetto - Debbie Booher with 13 correct
Week 6: 2019 Sauvignon Blanc - Roger Parkhouse with 10 correct & settled via tiebreaker
Week 7: 2019 Texas Cabernet Sauvignon - Corey Houston with 11 correct & settled via tiebreaker
Week 8: 2019 Trebbiano - Laura Brown with 14 correct
Week 9: 2019 Barbera - TBD
---
Upcoming Dates
Check out these important dates!
Smooth Jazz Sunday (2:00-4:45):
November 6th, Rodney Howell
Wine Down Fridays (3:30-6:30):
November 4th, Heath Ham
November 11th, Trevor Helt
November 18th, Ella Reid
November 25th, Jazz Daddies on Black Friday
Holiday Craft Night November 7th (6:30-8:30 PM)
Sip'n'Shop November 12th (1:00-6:00 PM)
Trivia Night November 14th (6:30-8:30 PM)
Upcoming Wine Club Release Pick Up Parties:
2023 Q1 - January 21st-22nd (maybe 28th/29th instead)
2023 Q2 - April 15th-16th
2023 Q3 - July 8th-9th (inside the Tasting Room)
2023 Q4 - October 28th-29th
---
Reservations are recommended to ensure you get a table, but walk-ins are available on a first-come-first-served basis. Online ordering with contactless curbside pickup remains available.
WED-SAT 1:00-7:00 PM
SUN 12:30-5:00 PM
We hope you find this email informative and we look forward to seeing you soon!
Cheers,
The Bent Oak Winery Team
Comments
Commenting has been turned off.