October 12, 2022 | Weekly News | Debbie Bruce
20221012 Weekly News Splash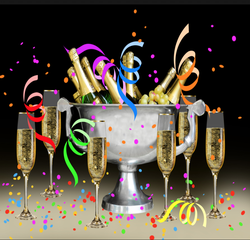 Happy 7th Anniversary Week
While Monday, October 10th, was the actual 7th year Anniversary of Bent Oak Winery's Tasting Room Opening, we decided to celebrate all week! The business officially opened in early 2014 (April to be exact - as we had to make the wine) but wow we have come a long way, baby! We have grown over the years in terms of us understanding the business, our wine production, wine club growth, and awards we have received. All of this is simply something we could not do without an appreciative, wonderful base of customers (and family and friends) supporting us along the way!
Please join in on the celebration with all of the specials we have listed below. But don't forget to check out all the events below the weekly specials!
SPECIALS
Quite a few folks have been wondering when we were bringing back soup now that fall is here. Bryan is cooking up his famous Chipotle Pumpkin to kick off the soup season!
Food
Specials for Friday through Sunday 7% off ($7 instead of $8 and $11 instead of $12):
$7 Chipotle Pumpkin Soup
$11 Chipotle Pumpkin Soup & Wine Pairing
Wine
We are adding some bubbles to the Tasting Menu (6 wines for this week), glass specials, and bottle specials in celebration!
Tasting Menu::
2021 Riesling TX (bottle retail $28)
2019 Sauvignon Blanc TX (4 Gold, 4 Silver, 2 Bronze) (bottle retail $34)
2018 Chardonnay CA (2 Silver, 3 Bronze) (bottle retail $40)
2018 Pinot Noir Reserve CA (1 Double Gold, 6 Silver, 3 Bronze) (bottle retail $62)
2019 Sangiovese TX (2 Gold, 3 Silver, 4 Bronze) (bottle retail $36)
2018 Lone Star Cuvee TX (Sparkling) (bottle retail $46)
Tastings:
$20 Tasting with a Logo Glass
$15 Tasting without a Logo Glass
Glasses ($7 instead of $9):
$7 Chardonnay CA (retail $12)
$7 Sangiovese (retail $12)
$7 Viognier CA (retail $12)
$7 Lone Star Cuvee TX (Sparkling) (retail $12)
Packages:
$49 Twin Gold (retail $70): 2019 Sangiovese TX, 2019 Sauvignon Blanc TX
$58 Triple Digit Heat Beater (retail $84): 3 Bottles of 2021 Riesling TX
$68 BBQ Buddies (retail $96): Texas 2019s: Dolcetto, Tempranillo, and Wild Eye
$70 Sparkling, Red & Rosé (retail $106): 2018 Lone Star Cuvee TX, 2019 Dolcetto TX, and 2021 Rosé TX
$140 Tasting Fab 5 (retail $200): 2021 Riesling TX, 2019 Sauvignon Blanc TX, 2018 Chardonnay CA, 2018 Pinot Noir Reserve CA, 2019 Sangiovese TX
Other Specials:
$7 off Aerators (excluding chirpies) and Tumblers
$7 shipping on 3 bottles or less
$7x2=$14 shipping on 4 to 6 bottles
$7 off for non-members of 3 bottles or more excluding current packages and Wine of the Month
WINE OF THE MONTH - $29 (retail $44) - 35% Discount
Viognier all day everyday! (and all month)
As we ring in October, we need to be thinking about getting ready for the holiday season. What better way to get ready for Thanksgiving than to get one of the perfect pairings for your Thanksgiving turkey which is the Viognier! This special is the California version of our Viognier: the 2019 Russian River Viognier (retail $44). Our perfect pairing recipe for this month is Creamy Shrimp Scampi Rigatoni.
Case of wine only $325 (retail $538) - 40% discount (about $27 per bottle)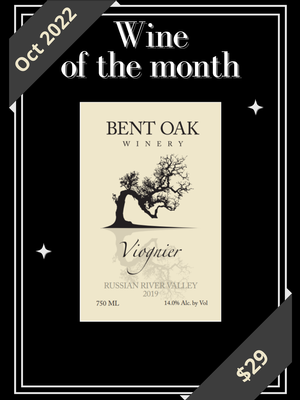 ---
Harvest Update
Last weekend, we barreled 3.5 tons of Mourvèdre, 3 tons of Sangiovese, and 2.5 tons of Cabernet Sauvignon. This weekend, we are pressing off 1.5 tons of Aglianico and of 3 tons of Montepulciano.
---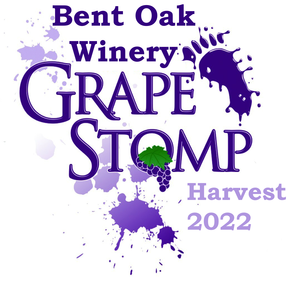 Saturday and Sunday, October 22nd & 23rd, 1:00 - 5:00 PM
(out back of the Tasting Room Building 2-B).
Please join us for the squishing and stomping at the 5th Annual Harvest Grape Stomp!
Squishing and stomping the grapes in a barrel or bin (just like on I Love Lucy)
Recording your stomp by stepping on your tee shirt with your grape juice feet Go home with your commemorative foot-stained tee shirt.
Plastic logo glass
Barrel sampling of one varietal
Get Tickets HERE: $25 Members and $30 Non-members
---
Save the Date: Holiday Craft Night November 7th

Save the date for BOW perennial favorite: Holiday Craft Night!
We are finalizing the crafts this week and tickets will be available next week! Seats will be limited so you'll want to reserve your spot as soon as tickets become available.
We'll be making either cork Christmas trees or a surprise wood burning (with non-toxic chemicals) project. All materials and instructions (and a glass of wine, of course!) are included.
---
Save the Date: Sip 'n' Shop November 12th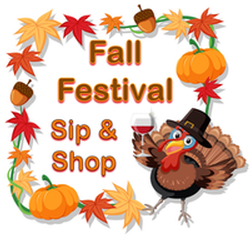 Get your Christmas Shopping done while sipping delicious Bent Oak wine! Local businesses & artisans will have their wares on display outside the winery between the hours of 1:00-6:00 PM
Want to have a booth? Reserve your space here: /Wines-and-Shop/Event-Tickets
---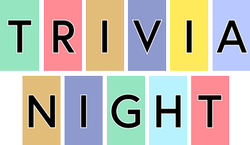 BOW-Wow Trivia Night is Monday, November 14th, 6:30 to 8:30 PM. Grab your friends to form a team or join up with a group and make new friends! We will have some wine questions thrown in with various general category questions. Get your tickets today as they always go quickly!
Get Tickets HERE: $25 Members and $30 Non-members
---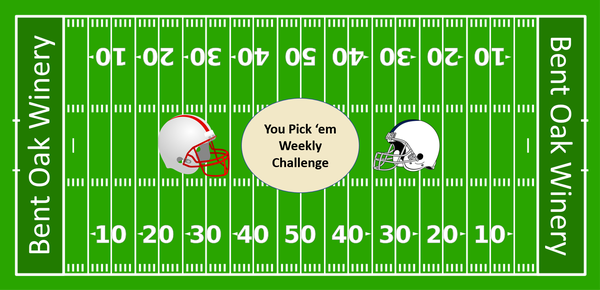 Are you ready for some football?
You can still get in on the fun and prizes even if you did not play each week! Join us for the weekly NFL You Pick 'Em game. You select the winners of each game and enter the total score of the Monday Night game. Get your entry in before the Thursday night game and good luck! (Note: You can modify the Sunday games until the 1st game starts on Sunday).
Note: If you have played in prior years, log in with their existing username and password (you do NOT need to join again). If you can't remember your info you can recover it here: https://www.runyourpool.com/forgot.cfm
Winners:
Week 1: 2021 Rosé - Dave Treacy with 11 correct.
Week 2: 2021 Riesling - Sister Winemaker (Marilee Catalano) with 12 correct
Week 3: 2019 Sangiovese - Erin Hiserote with 12 correct & settled via tiebreaker
Week 4: 2018 Chardonnay - Jenn Love with 13 correct
Week 5: 2019 Dolcetto - Debbie Booher with 13 correct
Week 6: 2019 Sauvignon Blanc - TBD
---
Upcoming Dates
Check out these important dates!
Smooth Jazz Sunday (2:00-4:45):
November 6th, Rodney Howell
Wine Down Fridays (3:30-6:30):
October 14th, Anthony Basini
October 21st, Joel Rapaport
Grape Stomp October 22nd & 23rd (1:00-5:00 PM)
Holiday Craft Night November 7th
Sip'n'Shop November 12th
Trivia Night November 14th (6:30-8:30 PM)
Upcoming Wine Club Release Pick Up Parties:
2022 Q4 - October 29th-30th
2023 Q1 - January 21st-22nd
2023 Q2 - April 15th-16th
2023 Q3 - July 8th-9th (inside the Tasting Room)
2023 Q4 - October 28th-29th
---
Reservations are recommended to ensure you get a table, but walk-ins are available on a first-come-first-served basis. Online ordering with contactless curbside pickup remains available.
WED-SAT 1:00-7:00 PM
SUN 12:30-5:00 PM
We hope you find this email informative and we look forward to seeing you soon!
Cheers,
The Bent Oak Winery Team
Comments
Commenting has been turned off.