September 27, 2022 | Weekly News | Debbie Bruce
20220927 Weekly News Splash
Thirsty Thursday Yappy Hour 4:00-7:00
Canine Companions Benefit
Get your Reservations for our Thirsty Thursday Yappy Hour on September 29th. We will have lots of specials and fun activities including seeing all the local Canine Companions puppies in training. With all the puppies in training in the house, please leave your dog at home.
Glass specials for $7 (Bent Oak will donate $1 for each glass):
Canine Chardonnay
Companion Cabernet (Texas Cabernet Sauvignon)
Doggy Dolcetto
Barking Blanc du Bois
Ruff Ruff Rosé
Hot Dog with Chips for $5 or Hot Dog with Chips and a Glass of Wine for $10.
Between now and September 29th, join us in supporting Canine Companions by purchasing a raffle ticket (or 3) for a chance to win a case (12 bottles) of award-winning Bent Oak wine - 6 reds and 6 whites with 80 medals between them - that retails for $448! We are trying to exceed our ticket count from last year (165) so help us out by getting yours today! The raffle winner will be announced at the Yappy Hour Event in the Tasting Room and you do not have to be present to win. Note: There are no physical tickets. We'll run a report of all those who purchased a ticket then use a random number generator to pick the winner. If you purchased the 3-pack of tickets. then your name will be listed 3 times.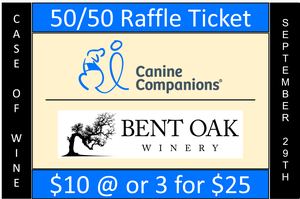 50/50 Raffle Ticket for a Canine Companions Case worth $448
Bent Oak Winery will split the ticket sales 50/50 with Canine Companions
$10 each ticket or 3 tickets for $25 (Do not have to be present to win)
Whites: 2019 Blanc du Bois Texas, 2021 Riesling Texas High Plains, 2018 Chardonnay Chalk Hill, 2019 Viognier Texas High Plains, 2019 Sauvignon Blanc Texas High Plains, 2019 Roussanne Texas High Plains

Reds: 2018 Cabernet Sauvignon Alexander Valley Reserve, 2018 Pinot Noir Russian River Reserve, 2018 Zinfandel Sonoma County, 2019 Dolcetto Texas High Plains, 2019 Sangiovese Texas High Plains, 2019 Tempranillo Texas High Plains
Note: We are authorized to ship our wine to California, Florida, New Mexico, North Carolina, Ohio, Texas, and Virginia. Anyone can buy a ticket and get your wine!
---
Concert for Foundations Kenya on Sunday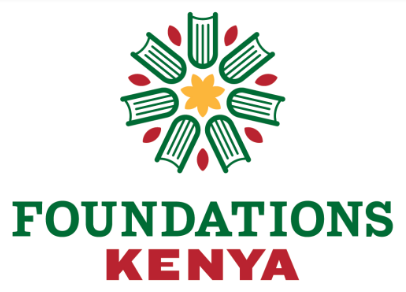 Sunday, October 2nd 6:30 (doors open at 6:15)
Enjoy a concert by Kate Garrison to help benefit Foundations Kenya. Ticket price includes a wine tasting and light snacks.
Get your tickets NOW as space is limited!
---
Tastes of Smyrna Farms: Turkish Olives Pairing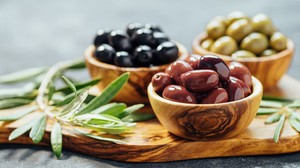 Tuesday, October 11th 6:30 - 8:30 (doors open at 6:15)
The date is fast approaching so - don't delay - get your tickets TODAY!
Gulay Akkus Nart of Smyrna Farms is back presenting a Turkish olives and wine pairing. Join us for this unique and wonderful event. For those of you who attended our Tour of Turkey event, you know Gulay will provide us with another awesome evening.
Sliced Olive Salad with Chardonnay
Grilled Olives with Roussanne
Black Olive/Sun dried tomato/Rosemary with Rose
Blueberry & Beet Olives with Sangiovese
Turkish Dry Baklava
In addition to the pairings above, you will receive an individual plate of cheese, bread, and olive oil dip to help cleanse your palate in-between pairings.
Get Tickets HERE: $35 members and $40 non-members
---
Harvest Update
We wrapped up harvest with 1.5 tons of Aglianico and a surprise of 3 tons of Montepulciano last week. This is our first time bringing in "Monte" and we are super excited. While the grapes are all in the house now, we still have a bunch of post-harvest chores, such as punchdowns, pressing, settling and moving wine into barrels for aging. This weekend we will be pressing off 3.5 tons of Mourvedre, 3 tons of Sangiovese, and 2.5 tons of Cabernet Sauvignon.
---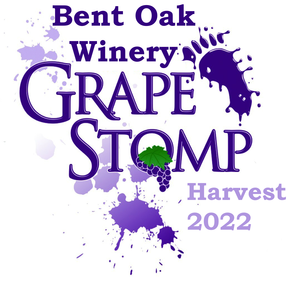 Saturday and Sunday, October 15th & 16th, 1:00 - 5:00 PM
(out back of the Tasting Room Building 2-B).
Please note we have changed the date for our grape stomp due to all of the harvest activities that have us super busy!
Please join us for the squishing and stomping at the 5th Annual Harvest Grape Stomp!
Squishing and stomping the grapes in a barrel or bin (just like on I Love Lucy)
Recording your stomp by stepping on your tee shirt with your grape juice feet Go home with your commemorative foot-stained tee shirt.
Plastic logo glass
Barrel sampling of one varietal
Get Tickets HERE: $25 Members and $30 Non-members
---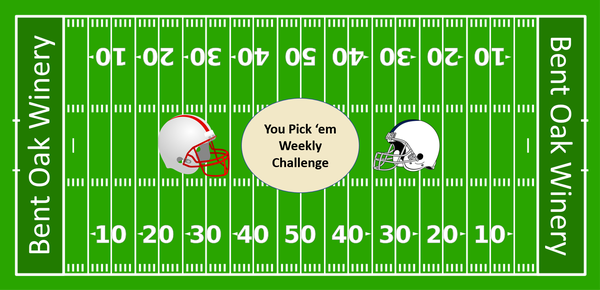 Are you ready for some football?
You can still get in on the fun and prizes even if you did not play last week! Join us for the weekly NFL You Pick 'Em game. You select the winners of each game and enter the total score of the Monday Night game. Get your entry in before the Thursday night game and good luck! (Note: You can modify the Sunday games until the 1st game starts on Sunday).
Note: If you have played in prior years, log in with their existing username and password (you do NOT need to join again). If you can't remember your info you can recover it here: https://www.runyourpool.com/forgot.cfm
Winners:
Week 1: 2021 Rosé - Dave Treacy with 11 correct.
Week 2: 2021 Riesling - Sister Winemaker (Marilee Catalano) with 12 correct
Week 3: 2019 Sangiovese - Erin Hiserote with 12 correct but settled by a tiebreaker
Week 4: 2018 Chardonnay - TBD
---
SPECIALS
It's a crazy harvest weekend, with the Bent Oak Team team pressing 8 tons of grapes, so we opted for an easy favorite this week: Bread & Olive Oil infused with Dipping Spices
Food
Specials for Friday through Sunday:
$8 Bread & Olive Oil infused with Dipping Spices
$12 Bread & Olive Oil with Wine Pairing
Wine
The glass specials and the packages changed this week!
Tasting Menu::
2021 Riesling TX (bottle retail $28)
2019 Sauvignon Blanc TX (4 Gold, 4 Silver, 2 Bronze) (bottle retail $34)
2018 Chardonnay CA (2 Silver, 3 Bronze) (bottle retail $40)
2018 Pinot Noir Reserve CA (1 Double Gold, 6 Silver, 3 Bronze) (bottle retail $62)
2019 Sangiovese TX (2 Gold, 3 Silver, 4 Bronze) (bottle retail $36)
Tastings:
$20 Tasting with a Logo Glass
$15 Tasting without a Logo Glass
Glasses:
$9 Chardonnay CA (retail $12)
$9 Sangiovese (retail $12)
$9 2021 Rosé TX (retail $12)
As noted above Thirsty Thursday Yappy Hour will have lots of glass specials for $7 instead of $9 so grab a reservation!
Packages:
$49 Twin Gold (retail $70): 2019 Sangiovese TX, 2019 Sauvignon Blanc TX
$58 Triple Digit Heat Beater (retail $84): 3 Bottles of 2021 Riesling TX
$68 BBQ Buddies (retail $96): Texas 2019s: Dolcetto, Tempranillo, and Wild Eye
$140 Tasting Fab 5 (retail $200): 2021 Riesling TX, 2019 Sauvignon Blanc TX, 2018 Chardonnay CA, 2018 Pinot Noir Reserve CA, 2019 Sangiovese TX
WINE OF THE MONTH PACKAGE - $33 (retail $55) 40% Discount:
Yay! Rosé all day! (and all month)
This is the last week for this excellent special. The package this month includes a Mr. Winemaker-signed bottle of 2021 Rosé (retail $28) which is a blend of Sangiovese Rosé and Mourvedre Rosé, 2 stemmed glasses (retail $24), and a perfect pairing recipe for Harvest Pizza (mozzarella, red grapes, rosemary, gorgonzola, and honey) (retail $3).
Case of wine only $225 (retail $336) - 33% discount (note: case does not include stemmed glasses)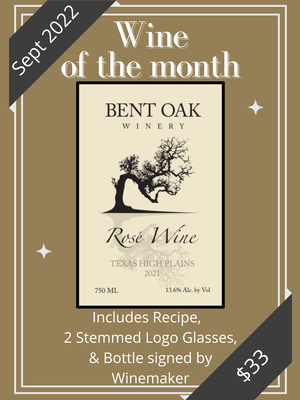 ---
Upcoming Dates
Check out these important dates!
Smooth Jazz Sunday (2:00-4:45):
October 2nd, Rodney Howell
Wine Down Fridays (3:30-6:30):
September 30th, Sonya Jevette
October 7th, Heath Ham
October 14th, Anthony Basini
October 21st, Joel Rapaport
Thirsty Thursday Yappy Hour for Canine Companions and DogFest September 29th (4:00-7:00 PM)
Concert for Foundations Kenya October 2nd (6:30-8:30 PM)
Bent Oak Winery's 7th Anniversary October 10th
Turkish Olive Experience October 11th (6:30-8:30 PM)
Grape Stomp October 15th & 16th (1:00-5:00 PM)
Sip'n'Shop November 12th
Trivia Night November 14th (6:30-8:30 PM)
Upcoming Wine Club Release Pick Up Parties:
2022 Q4 - October 29th-30th
2023 Q1 - January 21st-22nd
2023 Q2 - April 15th-16th
2023 Q3 - July 8th-9th (inside the Tasting Room)
2023 Q4 - October 28th-29th
---
Reservations are recommended to ensure you get a table, but walk-ins are available on a first-come-first-served basis. Online ordering with contactless curbside pickup remains available.
WED-SAT 1:00-7:00 PM
SUN 12:30-5:00 PM
We hope you find this email informative and we look forward to seeing you soon!
Cheers,
The Bent Oak Winery Team
Comments
Commenting has been turned off.