August 31, 2022 | Monthly Newsletter | Debbie Bruce
20220831 Get Bent Newsletter 2022-09
Happy Labor Day Weekend!
We are closed on Monday per our normal schedule, but are open this weekend. Stop by the Tasting Room this weekend to stock up on all your favorites for your holiday party! Check out the exciting specials below to make your party something special! We hope you have a wonderful holiday!
---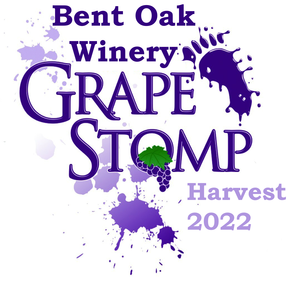 Saturday and Sunday, September 10th & 11th, 1:00 - 5:00 out back of the Tasting Room Building 2-B.
Join us for the squishing and stomping at the 5th Annual Harvest Grape Stomp! This year we put together a package for you that includes the following items:
Squishing and stomping the grapes in a barrel or bin (just like on I Love Lucy)
Recording your stomp by stepping on your tee shirt with your grape juice feet
Bottle of 2018 Roussanne
Stemmed Logo Glass
Go home with your commemorative foot-stained tee shirt, a bottle of 2018 Roussanne, and a stemmed logo glass to enjoy your Roussanne.
Get Stomp Packages HERE for $50 each
---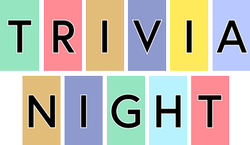 BOW-Wow Trivia Night is Monday, September 19th, 6:30 to 8:30 PM. Grab your friends to form a team or join up with a group and make new friends! We will have some wine questions thrown in with various general category questions. Get your tickets today as they always go quickly!
Get Tickets HERE: $25 Members and $30 Non-members
---
Harvest Update
We pressed off Dolcetto and it is in tank for a week or so before moving to barrels. Cool and rainy weather in the High Plains have slowed our Texas harvest. We should see Trebbiano and Riesling in late this week and Sangiovese and Mourvedre next week. California harvest will be light this year, but expecting Chardonnay later next week.
---
July Wine Club Release
Extended Another Week until September 4th
We hate to ship locally so we are extending the pick up one more week. For those of you still needing to pick up your wine, here are your options for picking up your wine through Sunday, September 4th:
You can make a RESERVATION to visit the tasting room Wednesday through Saturday 1:00-7:00 PM and Sunday 12:30-5:00 PM.
Schedule a Curbside Pickup during normal curbside hours: Wednesday through Saturday 1:00-7:00 PM and Sunday 12:30-5:00 PM. You can schedule your pick up date and time by clicking PICK UP and remain in your car when you arrive in the parking lot. Call or text us at 512-673-8250 and we will deliver your order to your car.
---
SPECIALS
It's a holiday weekend and the start of college football. Bryan is rustling up loaded nachos to get us in the spirit for college football.
Food
Specials for Friday through Sunday:
$8 Loaded Nachos
$12 Loaded Nachos with Wine Pairing
Wine
No changes this week except to add a few more packages for the last weekend of grillin' season. Also, we are introducing our wine of the month special.
Tasting Menu::
2021 Riesling TX (bottle retail $28)
2019 Sauvignon Blanc TX (4 Gold, 4 Silver, 2 Bronze) (bottle retail $34)
2018 Chardonnay CA (2 Silver, 3 Bronze) (bottle retail $40)
2018 Pinot Noir Reserve CA (1 Double Gold, 6 Silver, 3 Bronze) (bottle retail $62)
2019 Sangiovese TX (2 Gold, 3 Silver, 4 Bronze) (bottle retail $36)
Tastings:
$20 Tasting with a Logo Glass
$15 Tasting without a Logo Glass
Glasses:
$9 2021 Riesling TX (retail $12)
$9 2019 Sangiovese TX (retail $12)
$9 2021 Rosé TX (retail $12) this weekend only! Yay! It's finally ready!
Packages:
$49 Twin Gold (retail $70): 2019 Sangiovese TX, 2019 Sauvignon Blanc TX
$58 Triple Digit Heat Beater (retail $84): 3 Bottles of 2021 Riesling TX
$68 Double Gold (retail $98): 2018 Pinot Noir Reserve CA, 2019 Viognier TX
$68 BBQ Buddies (retail $96): Texas 2019s: Dolcetto, Tempranillo, and Wild Eye
$130 Grillin' & Grinnin' (retail $186): 2018 CA Cab and 2019s TX Vio, TX Cab, CA Vio
$140 Tasting Fab 5 (retail $200): 2021 Riesling TX, 2019 Sauvignon Blanc TX, 2018 Chardonnay CA, 2018 Pinot Noir Reserve CA, 2019 Sangiovese TX
$142 TX Summer 6-Pack (retail $204): 2018 Lone Star Cuvée TX, 2019 Blanc du Bois TX, 2019 Roussanne TX, 2019 Sauvignon Blanc TX, 2019 Viognier TX, 2021 Riesling TX
WINE OF THE MONTH PACKAGE - $36 (retail $55):
Yay! Rosé all day! (and all month!)
Not only are we introducing the new wine of the month package special but we are also introducing our new 2021 Rosé (a blend of Sangiovese Rosé and Mourvedre Rosé). The package this month includes a signed bottle of 2021 Rosé by Mr. Winemaker (retail $28), 2 stemmed glasses (retail $24), and a perfect pairing recipe for Harvest Pizza (mozzarella, red grapes, rosemary, gorgonzola, and honey) (retail $3).
Case of wine only $225 (retail $336) (note case does not include stemmed glasses)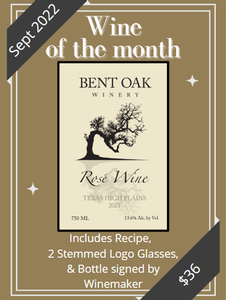 ---
Upcoming Dates
Check out these important dates!
Smooth Jazz Sunday (2:00-4:45):
September 4th, Rodney Howell
Wine Down Fridays (3:30-6:30):
September 2nd, Heath Ham
September 9th, Trevor Helt
September 16th, Jim Monk
September 23rd, Acquired Taste
September 30th, Sonya Jevette
CLOSED LABOR DAY September 5th
Grape Stomp September 10th & 11th (1:00-5:00 PM)
Trivia Night September 19th (6:30-8:30 PM)
Thirsty Thursday Yappy Hour for Canine Companions and DogFest September 29th (4:00-7:00 PM)
Trivia Night November 14th (6:30-8:30 PM)
Upcoming Wine Club Release Pick Up Parties:
2022 Q4 - October 29th-30th
2023 Q1 - January 21st-22nd
2023 Q2 - April 15th-16th
2023 Q3 - July 8th-9th (inside the Tasting Room)
2023 Q4 - October 28th-29th
---
Reservations are recommended to ensure you get a table, but walk-ins are welcome. Online ordering with contactless curbside pickup remains available.
WED-SAT 1:00-7:00 PM
SUN 12:30-5:00 PM
We hope you find this email informative and we look forward to seeing you soon!
Cheers,
The Bent Oak Winery Team
Comments
Commenting has been turned off.