July 27, 2022 | Weekly News | Debbie Bruce
20220727 Weekly News Splash
Recognized as a Top Winery in Texas Hill Country
We are excited to announce that ChoiceWineries.com lists us in the Top 10 Wineries in the Texas Hill Country!
https://choicewineries.com/best-wineries-in-texas-hill-country/
ChoiceWineries.com uses a data-driven approach, where they gather a ton of information on US wineries, then run it through their ranking algorithm designed to identify the best wineries to visit. They looked at over 6,700 wineries in the US this year, and have identified roughly 650 that they feature on the 'best of' lists on their website. So, we are in very exclusive company!
---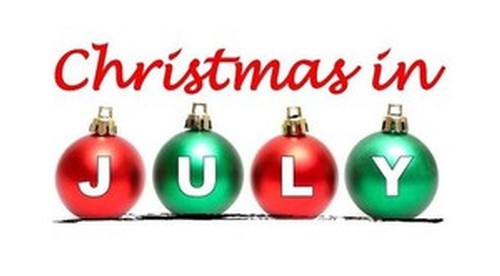 Last week for fantastic Christmas in July deals!
We are offering up some exciting specials this week to thank you for your continuing support! Please grab a reservation for the Tasting Room, check out the specials, and beat the heat!
Also, please let your wine ambassador know they take good care of you by remembering to leave them a tip!
---
Bottling Almost Completed for 2022!
We have one more wine to hand-bottle in Texas soon - a Pétillant Naturel Rosé. This is our first attempt at a Pétillant Naturel Sparkling. Pétillant Naturel is French for "naturally sparkling." Pétillant naturel is the oldest method of making sparkling wine. It is also known as the méthode ancestrale or ancestral method. This winemaking technique involves bottling wine that is still fermenting to trap carbon dioxide gas in the bottle, creating a gentle carbonation. Pét-nat wines (as they're called) are becoming more popular as part of the general trend toward natural wine.
Over the last several months we bottled a total of 3029 cases and we estimate another 80+ cases of the Pét-nat Rosé. We bottled the usual lineup of California and Texas wines, but we are excited about a new white varietal: Riesling (that is finished Dry). We are thinking about releasing the Rosé soon and that will likely be via members only event(s) - stay tuned!
| Type | CA | TX | Total |
| --- | --- | --- | --- |
| Red | 1052.08 | 869.42 | 1921.50 |
| Rosé | 0.00 | 45.08 | 45.08 |
| White | 319.25 | 742.83 | 1062.08 |
| TOTAL | 1371.33 | 1657.33 | 3028.67 |
---
2022 Texas Harvest Started
Our first Texas wine, Viognier, was harvested on Sunday. Some early bud-bursting varietal grapes were impacted by shatter and poor fruit set due to high winds in the Texas High Plains earlier this year. Especially impacted were Viognier and Roussanne. As such, we harvested Viognier from Sonora, Texas. The fruit looks great and we're excited to have it be the first of our 2022 harvest.
Typically, the only grape not sourced in the High Plains is the Blanc du Bois. Unfortunately we will not be bringing in Blanc du Bois this year but have plenty in stock to get us through until next year! Other grape varietals that had later bud-burst are looking good. We are looking at bringing in Trebbiano, Riesling, Dolcetto, and hopefully Montepulciano, along with several other varietals.
---
July Wine Club Release
For those of you still needing to pick up your wine, here are your options for picking up your wine through Sunday, August 28th:
You can make a RESERVATION to visit the tasting room Wednesday through Saturday 1:00-7:00 PM and Sunday 12:30-5:00 PM.
Schedule a Curbside Pickup during normal curbside hours: Wednesday through Saturday 1:00-7:00 PM and Sunday 12:30-5:00 PM. You can schedule your pick up date and time by clicking PICK UP and remain in your car when you arrive in the parking lot. Call or text us at 512-673-8250 and we will deliver your order to your car.
---
SPECIALS
Since we are kicked off the week with our Tour of Turkey Appetizer and Wine Pairing event, we thought we would continue the theme with our 7-Layer Mediterranean Dip served with pita chips this weekend. What's not to like and healthy too?!
Food
Specials for Friday through Sunday:
$8 7-Layer Mediterranean Dip with Pita Chips
$12 Dip & Chips with Wine Pairing
Wine
We sold the last 2018 case of TX Viognier. We have added a 2018 Trebbiano (last case!) to replace the Viognier. And have some California 2018 case specials for this week too!
Tasting Menu::
2018 Lone Star Cuvee TX (1 Bronze) (bottle retail $46)
2018 Chardonnay CA (2 Silver, 3 Bronze) (bottle retail $40)
2019 Roussanne TX NEW RELEASE (1 Silver, 2 Bronze) (bottle retail $32)
2019 Tempranillo TX (1 Double Gold, 2 Silver, 2 Bronze) (bottle retail $40)
2018 Cabernet Sauvignon Reserve CA (1, Gold, 2 Silver, 2 Bronze) (bottle retail $62)
Tastings:
$20 Tasting with a Logo Glass
$15 Tasting without a Logo Glass
Glasses:
$7 instead of $9 2018 Chardonnay CA (retail $12)
$10 instead of $12 2018 Cabernet Sauvignon Reserve CA (retail $18)
Packages:
$47 Chardonnay & Christmas Pourer (retail $72): 18 CA Chardonnay & Christmas Pourer
$66 Dreaming of a White Christmas (retail $102): 2019s: Roussanne (NEW), Sauvignon Blanc, Viognier
$120 We Three Kings (retail $184): 2018 Reserves: Cabernet Sauvignon, Pinot Noir, Zinfandel
$145 instead of $154 Tasting Fab 5 (retail $220): 18 Lone Star Cuvee TX, 18 Chardonnay CA, 19 Roussanne (NEW RELEASE) TX, 19 Tempranillo TX, 18 Cabernet Sauvignon CA
Case Texas Closeouts:
$168 Case 2018 Blanc du Bois (retail $336): $14 per bottle vs retail $28 per bottle - 1 case
$192 Case 2018 Roussanne (retail $384): $16 per bottle vs retail $32 per bottle - 14 cases
$204 Case 2018 Sauvignon Blanc (retail $408): $17 per bottle vs retail $34 per bottle - 5 cases
$168 Case 2018 Trebbiano (retail $336): $14 per bottle vs retail $28 per bottle - 1 case
California Case Specials:
480 Case 2018 Cabernet Sauvignon Reserve (retail $744): $40 per bottle vs retail $62 per bottle
$240 Case 2018 Chardonnay (retail $480): $20 per bottle vs retail $40 per bottle
$480 Case 2018 Pinot Noir (retail $744): $40 per bottle vs retail $62 per bottle
Spin-to-Win for Merchandise and Other Specials in the Tasting Room:
Get out of the heat and visit us in the Tasting Room for other specials to make your Christmas in July great! We have changed up some of the spin options for this week. Each person gets one spin per week in the Tasting Room.
---
Upcoming Dates
Check out these important dates!
Smooth Jazz Sunday (2:00-4:45):
August 7th, Rodney Howell
Wine Down Fridays (3:30-6:30):
July 29th, Sid Grimes
August 5th, Heath Ham
August 12th, Joel Rapaport
August 19th, Ella Reid
August 25th, Shellye Mier
BOW Wow Bunko August 22nd (6:30-8:30 PM) - Tickets coming soon!
Trivia Night September 19th (6:30-8:30 PM)
Trivia Night November 14th (6:30-8:30 PM)
Upcoming Wine Club Release Pick Up Parties:
2022 Q4 - October 29th-30th
2023 Q1 - January 21st-22nd
2023 Q2 - April 15th-16th
2023 Q3 - July 8th-9th (inside the Tasting Room)
2023 Q4 - October 28th-29th
Reservations are recommended to ensure you get a table. Online ordering with contactless curbside pickup remains available.
WED-SAT 1:00-7:00 PM
SUN 12:30-5:00 PM
We hope you find this email informative and we look forward to seeing you soon!
Cheers,
The Bent Oak Winery Team
Comments
Commenting has been turned off.