July 13, 2022 | Weekly News | Debbie Bruce
20220713 Weekly News Splash
Grand Mesa Wine Social Tonight at 7:30!
Grand Mesa residents there is still time to get your tickets for the Wine Social tonight in our Tasting Room starting at 7:30! Get out of the heat and join us for a fun evening with your neighbors!
---
Texas Bottling July 19th & 20th
July 19th (Tuesday) and 20th (Wednesday) - all hands on deck for 2 full days of bottling (approximately 1700 cases of both reds and whites). Due to the extreme heat and strenuous activity we will be having shorter work shifts. Note: all volunteer positions are outside, require standing, and lifting cases of wine that weigh up to 40 or 50 pounds. There is no parking at 18B where we are bottling. You will need to park at 2B and walk up to 18B. Below is a link to a video to get an idea of some of the volunteer stations needed during bottling.
---
TOUR OF TURKEY
Food & Wine Pairing Event
July 26th 6:30 to 8:30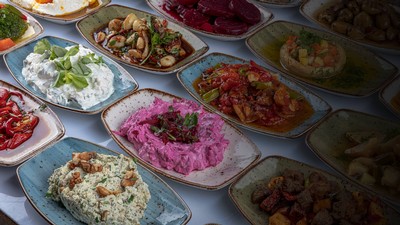 Join us for an evening of fun and education as we learn about Turkish appetizers from Gulay Akkus Nart. Gulay is from Turkey but now lives in Cedar Park and we are excited for you to meet her and taste her wonderful appetizers. We will be sharing the following 5 courses throughout the evening where Gulay will explain the ingredients and traditions around each dish and Mr. Winemaker will be discussing the great wine pairings for each course.
Kisir (Turkish version of Tabouli) with lettuce paired with Sauvignon Blanc
Havuc Meze (Carrot Dish), Humus, and Cacik (Turkish version of Tzatziki) served with pita bread paired with Chardonnay
Kofte (meatballs) and Piyaz (white bean salad) paired with Wild Eye Red Blend
Beyaz Peynir (white cheese similar to Feta) with Incir (Fig) paired with Aglianico
Tahin Pekmez (tahini and grape molasses) paired with California Cabernet Sauvignon
Get your tickets ASAP as they are selling fast!
---
July Wine Club Release
Here are your options for picking up your wine in the Tasting Room (2B) during the pick up window between NOW and Sunday, August 28th:
You can make a RESERVATION to visit the tasting room Wednesday through Saturday 1:00-7:00 PM and Sunday 12:30-5:00 PM.
Schedule a Curbside Pickup during normal curbside hours: Wednesday through Saturday 1:00-7:00 PM and Sunday 12:30-5:00 PM. You can schedule your pick up date and time by clicking PICK UP and remain in your car when you arrive in the parking lot. Call or text us at 512-673-8250 and we will deliver your order to your car.
---
SPECIALS
Mrs. Winemaker is serving up her Sloppy John's this week.
Food
Specials for Friday through Sunday:
$8 Sloppy John's with chips
$12 Sloppy John's with Wine Pairing
Wine
No changes this week!
Tasting Menu::
2018 Lone Star Cuvee TX (1 Bronze) (bottle retail $46)
2018 Chardonnay CA (2 Silver, 3 Bronze) (bottle retail $40)
2019 Roussanne TX NEW RELEASE (1 Silver, 2 Bronze) (bottle retail $32)
2019 Tempranillo TX (1 Double Gold, 2 Silver, 2 Bronze) (bottle retail $40)
2018 Cabernet Sauvignon CA (1, Gold, 2 Silver, 2 Bronze) (bottle retail $62)
Tastings:
$20 Tasting with a Logo Glass
$15 Tasting without a Logo Glass
Glasses:
$9 2019 Roussanne TX - NEW RELEASE (retail $12)
$9 2019 Tempranillo TX (retail $12)
Packages:
$47 Grillin' Complements (retail $67): 18 CA Cab & Sister Winemaker's Montreal Steak Seasoning
$50 Texas 2 Step (retail $72): 19 Roussanne (NEW RELEASE), 19 Tempranillo, TX
$154 Tasting Fab 5 (retail $220): 18 Lone Star Cuvee TX, 18 Chardonnay CA, 19 Roussanne (NEW RELEASE) TX, 19 Tempranillo TX, 18 Cabernet Sauvignon CA
---
Upcoming Dates
Check out these important dates!
Smooth Jazz Sunday (2:00-4:45):
August 7th, Rodney Howell
Wine Down Fridays (3:30-6:30):
July 15th, Alicia Adkins
July 22nd, Trevor Helt
July 29th, Sid Grimes
Tour of Turkey via Appetizers Event July 26th (6:30-8:30 PM)
Trivia Night September 19th (6:30-8:30 PM)
Trivia Night November 14th (6:30-8:30 PM)
Upcoming Wine Club Release Pick Up Parties:
2022 Q4 - October 29th-30th
2023 Q1 - January 28th-29th Proposed Date
2023 Q2 - April 15th-16th Proposed Date
2023 Q3 - July 8th-9th Proposed Date - (inside)
2023 Q4 - October 28th-29th Proposed Date
---
Reservations are recommended to ensure you get a table. Online ordering with contactless curbside pickup remains available.
WED-SAT 1:00-7:00 PM
SUN 12:30-5:00 PM
We hope you find this email informative and we look forward to seeing you soon!
Cheers,
The Bent Oak Winery Team
Comments
Commenting has been turned off.