June 7, 2022 | Weekly News | Debbie Bruce
20220607 Weekly News Splash
The Belmont Stakes
The third jewel of the Triple Crown, the Belmont Stakes, is this Saturday! Though we will not have a Triple Crown winner, we can still have fun and win prizes. Spin to get your horse to watch and win. You do not have to be present to win but it is fun to watch in the Tasting Room. Post time is around 6:00 pm CDT - book your reservation for that last seating to watch with us and get your prize immediately. For those of you who cannot make it to the Tasting Room, you can select your horse by spinning the wheel and recording the horse selected by the wheel via this form SPIN. If your horse wins you will receive a bottle of 2018 Roussanne. Note: Only 1 spin per person please whether in the Tasting Room or online! Note 2: the odds are pretty good with only 10 horses in this race!
---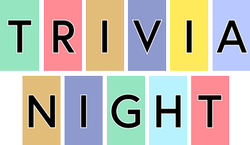 BOW-Wow Trivia Night is Monday, June 27th, 6:30 to 8:30 PM. Grab your friends to form a team or join up with a group and make new friends! We will have some wine questions thrown in with various general category questions. Get your tickets today as they always go quickly!
---
Wine Making
John and Bryan have been busy getting our wines ready for bottling. Mr and Mrs Winemaker are out in Healdsburg bottling the 2020 Cab and the 2021 Viognier and Chardonnay. We'll be back out in Healdsburg the 1st week of July to finish up with 2021 Zins, Pinot, and Cab. Meanwhile, we are busy getting all of our Texas wines ready for bottling on July 20/21- Bottle it while it's hot!!! We'll send out e-mails asking for volunteers soon.
---
SPECIALS
Try out the Pedernales Snack Mix to go with your wine on a hot day!
Food
Specials for Friday thru Sunday:
$8 Pedernales Snack Mix
$12 Pedernales Snack Mix with Wine Pairing
Wine
Everything changed this week!
Tasting Menu::
2019 Blanc du Bois TX (3 Gold, 4 Silver, 2 Bronze) (bottle retail $28)
2018 Trebbiano TX (3 Bronze) (bottle retail $28)
2018 Roussanne TX (2 Silver, 1 Bronze) (bottle retail $32)
2018 Pinot Noir Reserve CA (1 Double Gold, 6 Silver, 3 Bronze) (bottle retail $62)
2019 Wild Eye Red Blend TX CA (None Yet!) (bottle retail $24)
Tastings:
$20 Tasting with a Logo Glass
$15 Tasting without a Logo Glass
Glasses:
$9 2018 Roussanne TX (retail $12)
$12 2018 Pinot Noir Reserve CA (retail $18)
Packages:
$47 Grillin' Complements (retail $67): 18 CA Cab & Sister Winemaker's Montreal Steak Seasoning - Perfect Father's Day Gift!
$63 Pool Cool (retail $90): 19 Blanc du Bois, Cooling Sleeve, 2 Insulated Tumblers
$66 All White All White All White (retail $94): 18 Roussanne, 18 Trebbiano, 19 Viognier TX - Great Summer wines!
$122 Tasting Fab 5 (retail $174): 19 Blanc du Bois TX, 18 Trebbiano TX, 18 Roussanne TX, 18 Pinot Noir Reserve CA, 19 Wild Eye Red TX
---
Upcoming Dates
Check out these important dates!
Smooth Jazz Sunday (2:00-4:45):
July 3rd, Rodney Howell
Wine Down Fridays (3:30-6:30):
June 10th, Joel Rapaport
June 17th, Joey Kipfer
June 24th, Mitch Chandler
Trivia Night June 27th (6:30-8:30 PM)
2022 Wine Club Release Pick Up Parties:
Q3 - July 9th-10th
Q4 - October 29th-30th
---
Reservations are recommended to ensure you get a table. Online ordering with contactless curbside pickup remains available.
WED-SAT 1:00-7:00 PM
SUN 12:30-5:00 PM
We hope you find this email informative and we look forward to seeing you soon!
Cheers,
The Bent Oak Winery Team
Comments
Commenting has been turned off.