June 1, 2022 | Monthly Newsletter | Debbie Bruce
20220601 Get Bent Newsletter 2022-06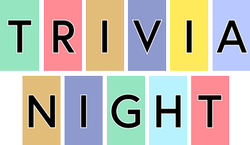 BOW-Wow Trivia Night is Monday, June 27th, 6:30 to 8:30 PM. Grab your friends to form a team or join up with a group and make new friends! We will have some wine questions thrown in with various general category questions. Get your tickets today as they always go quickly!
---
SPECIALS
Don't miss the delicious paninis we are serving up this week!
Food
Specials for Friday thru Sunday:
$8 Sourdough, pesto jack, and fresh tomatoes with balsamic glaze Panini
$12 Panini with Wine Pairing
Wine
No changes this week!
Tasting Menu::
2019 Blanc du Bois TX (NEW RELEASE) (3 Gold, 4 Silver, 2 Bronze) (bottle retail $28)
2018 Trebbiano TX (3 Bronze) (bottle retail $28)
2019 Sauvignon Blanc TX (4 Gold, 4 Silver, 2 Bronze) (bottle retail $34)
2019 Sangiovese TX (2 Gold, 3 Silver, 4 Bronze) (bottle retail $36)
2018 Zinfandel CA (2 Gold, 2 Silver, 1 Bronze) (bottle retail $50)
Tastings:
$20 Tasting with a Logo Glass
$15 Tasting without a Logo Glass
Glasses:
$9 2019 Blanc du Bois TX (retail $12)
$9 2019 Sangiovese TX (retail $12)
Packages:
$47 Grillin' Complements (retail $67): 18 CA Cab & Sister Winemaker's Montreal Steak Seasoning
$49 Twin Gold (retail $70): 19 Sangiovese and 19 Sauvignon Blanc
$68 Double Gold (retail $98): 18 Pinot Noir Reserve and 19 TX Viognier
$68 BBQ Buddies (retail $96): Texas 2019s: Dolcetto, Tempranillo, and Wild Eye
$130 Reserve Trio (retail $184): CAL Reserve 2018s: Cab, Pinot Noir, and Zin
$130 Grillin' & Grinnin' (retail $186): 18 CA Cab, 18 TX Vio, 19 TX Cab, and 19 CA Vio
$123 Tasting Fab 5 (retail $176): 19 Blanc du Bois TX, 18 Trebbiano TX, 19 Sauvignon Blanc TX, 19 Sangiovese TX, 18 Zinfandel CA
---
Upcoming Dates
Check out these important dates!
Smooth Jazz Sunday (2:00-4:45):
June 5th, Rodney Howell
Wine Down Fridays (3:30-6:30):
June 3rd, Heath Ham
June 10th, Joel Rapaport
June 17th, Joey Kipfer
June 24th, Mitch Chandler
Private Event June 14th 3:30-7:30
Trivia Night June 27th 6:30-8:30 PM
2022 Wine Club Release Pick Up Parties:
Q3 - July 9th-10th
Q4 - October 29th-30th
---
Reservations are recommended to ensure you get a table. Online ordering with contactless curbside pickup remains available.
WED-SAT 1:00-7:00 PM
SUN 12:30-5:00 PM
We hope you find this email informative and we look forward to seeing you soon!
Cheers,
The Bent Oak Winery Team
Comments
Commenting has been turned off.