April 6, 2022 | Monthly Newsletter | Debbie Bruce
20220406 Get Bent Newsletter 2022-04
Tasting Room Closed Friday at 5:00 and
Saturday & Sunday
Remember, the Tasting Room will close at 5:00 PM Friday and is closed Saturday and Sunday! Wine Club Members will be attending one of the pick up parties in the tent outside between Buildings 1 and 2.
---
April Wine Club Release & Pickup Party
Members join us for an egg-citing Easter-themed member pickup party! We will be serving up Tino's Gyro Platters (Gyros, Hummus, Spanakopita, Dolmathes, Feta Salad, Pita bread, and Tzatziki sauce) and, of course, there will be wine and music to enjoy!
Get your tickets ASAP to ensure you get food
(if available, price doubles at the door)!
Pick Up Party Options - Get Food Tickets HERE (limit of 2 per membership) to one of the outside parties below:
Saturday, April 9th, 1:00 to 2:30 Pick Up Party #1
Saturday, April 9th, 3:00 to 4:30 Pick Up Party #2
Sunday, April 10th, 1:00 to 2:30 Pick Up Party #3
Sunday, April 10th, 3:00 to 4:30 Pick Up Party #4
If you can't make one of the parties, you can pick up anytime in the Tasting Room during normal operating hours Wednesday, April 6th through Sunday, May15th.
---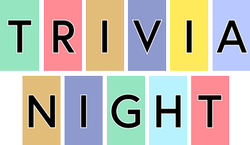 Back by popular demand! BOW-Wow Trivia Night is on Monday, April 18th, 6:30 to 8:30 PM. Grab your friends to form a team or join up with a group and make new friends! We will have some wine questions thrown in with various general category questions. Get your tickets today as they will go quickly!
---
March Madness Winner
The tournament lived up to its name this year! Zenovia DeCuir stuck with her team "Kansas" and they pulled it out. Zenovia wins a bottle of 2018 Zinfandel Sonoma County.
---
SPECIALS
With the pick up parties this weekend we will have a partial day on Friday for one of our favorite specials: Sister Winemaker's Beer Cheese Dip with Pretzel Bites.
Food
Specials for Friday only:
$8 Beer Cheese Dip & Pretzel Bites
$12 Pretzels and Dip with Wine Pairing
Wine
All new tasting menu this week which is a representation of the wines in our April release.
Tasting Menu::
2019 Blanc du Bois TX (NEW RELEASE) (bottle retail $28)
2018 Trebbiano TX (3 Bronze) (bottle retail $28)
2019 Sauvignon Blanc TX (4 Gold, 4 Silver, 2 Bronze) (bottle retail $34)
2019 Sangiovese TX (2 Gold, 3 Silver, 4 Bronze) (bottle retail $36)
2018 Zinfandel CA (2 Gold, 2 Silver, 1 Bronze) (bottle retail $50)
Tastings:
$20 Tasting with a Logo Glass
$15 Tasting without a Logo Glass
Glasses:
$9 2019 Blanc du Bois TX
$9 2018 Zinfandel CA
Bottles: none
Packages:
$70 Easter Lamb Dinner 2-Pack (retail $100): 18 Chardonnay and 18 Zinfandel Reserve
$75 Easter Ham Dinner 2-Pack (retail $106): 18 Pinot Noir Reserve and 19 Viognier CA
$123 Tasting Fab 5 (retail $176): 19 Blanc du Bois TX, 18 Trebbiano TX, 19 Sauvignon Blanc TX, 19 Sangiovese TX, 18 Zinfandel CA
$135 Bunny Hop 4-Pack (retail $192): 18 Lone Star Cuvee, 18 Pinot Noir Reserve, 18 Viognier TX, 18 Zinfandel
---
Spring Fling April 30th
Save the date for an afternoon of fun in the sun! We will host a mini-Sip n Shop plus our kids will be washing cars out back for our first Sip n Shine. So far we have identified Ring Toss and Cornhole for games, but working on a few more fun activities! Stay tuned as we nail down all of our Spring Fling activities for April 30th.
---
No Virtual Happy Hour This Week!
Next week, Mr. Winemaker will discuss Zinfandel
---
Upcoming Dates
Check out these important dates!
Smooth Jazz Sunday (2:00-4:45):
May 1st, Rodney Howell
Wine Down Fridays (3:30-6:30):
April 8th, Joel Rapaport (3:30-4:45 today only)
April 15th, Anthony Basini
April 22nd, Mitch Chandler
April 29th, Angela Banks
BOW-Wow Trivia April 18th (6:30-8:30 PM)
Spring Fling April 30th (1:00-6:00 PM)
2022 Wine Club Release Pick Up Parties:
Q2 - April 9th-10th - WINERY OPEN FOR CLUB MEMBERS ONLY
Q3 - July 9th-10th
Q4 - October 29th-30th
---
Reservations are recommended to ensure you get a table and online ordering with contactless curbside pickup remains available.
WED-SAT 1:00-7:00 PM
SUN 12:30-5:00 PM
We hope you find this email informative and we look forward to seeing you soon!
Cheers,
The Bent Oak Winery Team
Comments
Commenting has been turned off.