March 9, 2022 | Weekly News | Debbie Bruce
20220309 Weekly News Splash
EDIBLE AUSTIN
Bent Oak Winery is extremely proud and excited to announce we were selected as the favorite winery in the area by the readers of Edible Austin. You can see us in the magazine using the link below or pick up a copy in your grocery store. We are on page 32 of the actual paper magazine and page 17 on the virtual copy via the link below.
---
SPECIALS
Bryan does it again this week with a unique take on bruschetta. Stop in and check it out!
Food
Specials for Friday through Sunday:
$8 Grilled nectarine, arugula, and ricotta bruschetta
$12 Bruschetta with Wine Pairing
Wine
Everything changed this week.
Tasting Menu::
2018 Chardonnay CA (2 Silver, 3 Bronze) (bottle retail $40)
2018 Roussanne TX (2 Silver, 1 Bronze) (bottle retail $32)
2018 Viognier TX (1 Gold, 2 Silver, 2 Bronze) (bottle retail $34)
2019 Dolcetto TX (1 Gold, 5 Silver, 4 Bronze) (bottle retail $32)
2018 Cabernet Sauvignon CA (1 Gold, 2 Silver, 2 Bronze) (bottle retail $62)
Tastings:
$20 Tasting with a Logo Glass
$15 Tasting without a Logo Glass
Glasses:
$9 2018 Viognier TX
$9 2019 Dolcetto TX
Bottles: none
Packages:
$45 TX 2 Step (retail $64): 18 Roussanne and 19 Dolcetto
$66 All White All White All White (retail $94): 18 Roussanne, 18 Trebbiano, 18 Viognier TX
$140 Tasting Fab 5 (retail $200): 18 Chardonnay, 18 Roussanne, 18 Viognier TX, 19 Dolcetto, 18 Cabernet Sauvignon CA
---
Spring Fling April 30th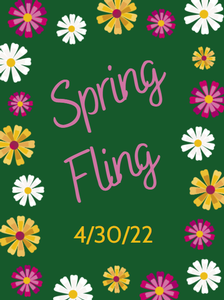 Save the date for an afternoon of fun in the sun! We will host a mini-Sip n Shop plus our kids will be washing cars out back for our first Sip n Shine. And we are thinking about having a few outside games to play, as well, like the ring toss on bottles (since we might be able to find one or two). Stay tuned as we nail down all of our fun activities for April 30th.
For those of you interested in having one of the two remaining booths at the Sip n Shop, click HERE to reserve your 10 x 10 spot.
Booth $30
48-hour cancellation policy
---
April Wine Club Release
We are finalizing the picks for April and will be sending out the club emails later this week. Your credit cards will be charged on April 4th and the pick up parties will be on April 9th -10th.
---
No Virtual Happy Hour This Week!
Mr Winemaker is at an event this Friday. He'll see you next week.
---
Upcoming Dates
Check out these important dates!
Meet the Candidate for Leander Place 3, March 15 (6:30 - 8:30)
Our own Steve Hanes is running for Leander City Council, Place 3 - enjoy a glass of wine and hear what Steve has planned for future of Leander. Please RSVP to info@bentoakwinery.com
Smooth Jazz Sunday (2:00-4:45):
April 3rd, Rodney Howell
Wine Down Fridays (3:30-6:30):
March 11th, Trevor Helt
March 18th, Mitch Chandler
March 25th, Joey Kipfer
Spring Fling April 30th (1:00-6:00)
2022 Wine Club Release Pick Up Parties:
Q2 - April 9th-10th
Q3 - July 9th-10th
Q4 - October 29th-30th
---
Reservations are recommended and online ordering with contactless curbside pickup remains available.
WED-SAT 1:00-7:00 PM
SUN 12:30-5:00 PM
We hope you find this email informative and we look forward to seeing you soon!
Cheers,
The Bent Oak Winery Team
Comments
Commenting has been turned off.