March 2, 2022 | Monthly Newsletter | Debbie Bruce
20220302 Get Bent Newsletter 2022-03
Price Increase
We at Bent Oak Winery are committed to providing you with quality service, experience, great wines and a great value. To help offset huge increases in our supply chain including, cost of glass, transportation, really everything from corks, labels, plates, and food items, we, like many others, are making certain price increases to help keep pace and continue to provide excellent service, experience and wine!
---
SPECIALS
Bryan is back again this week to bring us a wonderful new dip recipe he is trying out. If the new dip is as good as the krab dip from last week then it is sure to be a hit!
Food
Specials for Friday through Sunday:
$8 Whipped goat cheese with pesto and sundried tomatoes dip
$12 Whipped goat cheese dip with Wine Pairing
Wine
The glasses changed this week.
Tasting Menu::
2018 Chardonnay CA (2 Silver, 3 Bronze) (bottle retail $40)
2018 Roussanne TX (2 Silver, 1 Bronze) (bottle retail $32)
2019 Cabernet Sauvignon TX (None Yet!) (bottle retail $46)
2019 Petit Verdot TX (None Yet!) (bottle retail $40)
2018 Cabernet Sauvignon CA (1 Gold, 2 Silver, 2 Bronze) (bottle retail $62)
Tastings:
$20 Tasting with a Logo Glass
$15 Tasting without a Logo Glass
Glasses:
$9 2018 Roussanne
$9 2019 Cabernet Sauvignon TX
Bottles: none
Packages:
$53 2V Wine Therapy (retail $76): 19 Petit Verdot and 19 TX Viognier
$154 Tasting Fab 5 (retail $220): 18 Chardonnay, 18 Roussanne, 19 Cabernet Sauvignon TX, 19 Petit Verdot, 18 Cabernet Sauvignon CA
---
Spring Fling April 30th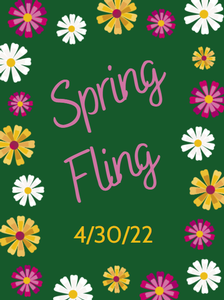 Save the date for an afternoon of fun in the sun! We will host a mini-Sip n Shop plus our kids will be washing cars out back for our first Sip n Shine. And we are thinking about having a few outside games to play, as well, like the ring toss on bottles (since we might be able to find one or two). Stay tuned as we nail down all of our fun activities for April 30th.
For those of you interested in having one of only 10 booths at the Sip n Shop, click HERE to reserve your 10 x 10 spot.
Booth $30
48-hour cancellation policy
---
January Wine Club Pick ups
Last week before the deadline of March 6th!
Pick up your wines in the Tasting Room (Bldg 2B) between now and Sunday, March 6th:
You can make a RESERVATION to visit the tasting room Wednesday through Saturday 1:00-7:00 PM and Sunday 12:30-5:00 PM.
Schedule a Curbside Pickup during normal curbside hours: Sunday through Tuesday 1:00-5:00 PM or Wednesday through Saturday 1:00-7:00PM. You can schedule your pick up date and time by clicking PICK UP and remain in your car when you arrive in the parking lot. Call or text us at 512-673-8250 and we will deliver your order to your car.
---
No Virtual Happy Hour This Week!
We'll see you in a couple of weeks!
---
Upcoming Dates
Check out these important dates!
Smooth Jazz Sunday (2:00-5:00):
March 6th, Rodney Howell
Wine Down Fridays (3:30-6:30):
March 4th, Heath Ham
March 11th, Trevor Helt
March 18th, Mitch Chandler
March 25th, Joey Kipfer
Spring Fling April 30th (1pm to 6pm)
2022 Wine Club Release Pick Up Parties:
Q2 - April 9th-10th
Q3 - July 9th-10th
Q4 - October 29th-30th
---
Reservations are recommended and online ordering with contactless curbside pickup remains available.
WED-SAT 1:00-7:00 PM
SUN 12:30-5:00 PM
We hope you find this email informative and we look forward to seeing you soon!
Cheers,
The Bent Oak Winery Team
Comments
Commenting has been turned off.