January 18, 2022 | Weekly News | Debbie Bruce
20220118 Weekly News Splash
Travis & Williamson Counties are at their highest COVID Risk Levels indicating Uncontrolled Spread. We kindly ask that you wear a mask until your order is taken and anytime you leave the table.
---
SPECIALS
Food
Wine Ambassador, Schantel, is making chicken lettuce wraps. Come on in and check them out!
Specials for Friday through Sunday:
$ 6 Chicken Lettuce Wraps
$10 Chicken Lettuce Wraps with Wine Pairing
Wine
Only changes this week are for the glass specials.
Tasting Menu::
2018 Chardonnay CA (2 Silver, 3 Bronze) (bottle retail $34)
2018 Roussanne TX (2 Silver, 1 Bronze) (bottle retail $26)
2018 Pinot Noir Reserve CA (1 Double Gold, 6 Silver, 3 Bronze) (bottle retail $52)
2019 Dolcetto TX (1 Gold, 4 Silver, 4 Bronze) (bottle retail $26)
2019 Cabernet Sauvignon TX (None Yet!) (bottle retail $38)
Glasses:
$7 2018 Roussanne TX
$7 2019 Dolcetto TX
Bottles: none
Packages:
$35 TX 2 Step (retail $52): '19 Dolcetto and '18 Roussanne
$38 Chardonnay & Christmas Pourer (retail $63): '18 Chardonnay
$95 Tres Pinot (retail $156): '18 Pinot Noir Reserve (3)
---
January Wine Club Release Parties
Wine Club Members join us at one of our Pick Up Parties and enjoy wine, music, and BBQ. If you want the meatless option (baked potato) click HERE. Note: All members should have received an email with the wines selected in the January release so please notify us if you have not.
Click on one of the time slots below to purchase your ticket(s) to attend one of the pick up parties:
Saturday, January 29th, 1:00 to 2:30 pm
Saturday, January 29th, 3:00 to 4:30 pm
Sunday, January 30th, 1:00 to 2:30 pm
Sunday, January 30th, 3:00 to 4:30 pm
---
Virtual Happy Hour This Week @ 5 pm Friday!
Join us for a game of Wineo (our version of Bingo with wine related terms). Get up to two playing cards HERE
---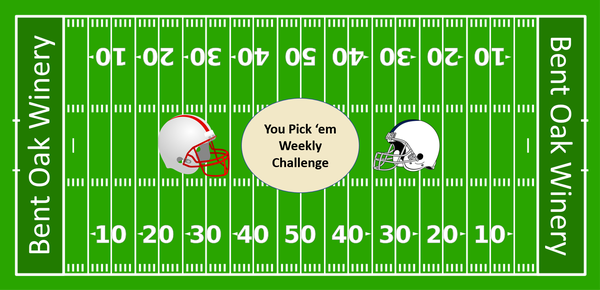 The Playoffs are here!
Wildcard weekend saw all the home teams win except the Cowgirls resulting in a tiebreaker with 5 correct. Larry Ketchercid won the tiebreaker and a bottle of 2019 TX Viognier. Larry please stop by the tasting room to pick up your bottle of wine.
This week is the Divisional Playoffs weekend and will be 4 games (2 Saturday and 2 Sunday). A bottle of 2019 TX Dolcetto to the Divisional Playoffs winner! Get your entry in before the games begin on Saturday.
Bent Oak Winery NFL You Pick 'Em Game
---
Upcoming Dates
Check out these important dates!
Smooth Jazz Sunday (2:00-5:00):
February 6th, Rodney Howell
Wine Down Fridays (3:30-6:30):
January 21st, Jordan Hasto
January 28th, James Hearne (we are closing at 5:00 on the 28th for a private event)
---
Reservations are recommended and online ordering with contactless curbside pickup remains available.
WED-SAT 1:00-7:00 PM
SUN 12:30-5:00 PM
We hope you find this email informative and we look forward to seeing you soon!
Cheers,
The Bent Oak Winery Team
Comments
Commenting has been turned off.