January 5, 2022 | Monthly Newsletter | Debbie Bruce
20220105 Get Bent Newsletter 2022-01
With Travis County now at Stage 4 for COVID risk, and Williamson County at Red Risk Level, we encourage wearing a mask until your order is taken and anytime you leave the table.
---
SPECIALS
Food
Mr Winemaker is starting our year off right with his awesome smoked prime rib sliders. What a way to kick off the new year!!
Specials for Friday through Sunday:
$ 6 Prime Rib Slider
$10 Prime Rib Slider with Wine Pairing
Wine
Everything changed this week so check out the new tasting menu!
Tasting Menu::
2018 Chardonnay CA (2 Silver, 3 Bronze) (bottle retail $34)
2018 Roussanne TX (2 Silver, 1 Bronze) (bottle retail $26)
2018 Pinot Noir Reserve CA (1 Double Gold, 6 Silver, 3 Bronze) (bottle retail $52)
2019 Dolcetto TX (1 Gold, 4 Silver, 4 Bronze) (bottle retail $26)
2019 Cabernet Sauvignon TX (None Yet!) (bottle retail $38)
Glasses:
$7 2018 Roussanne TX
$7 2019 Cabernet Sauvignon TX
Bottles: none
Packages:
$35 TX 2 Step (retail $52): '19 Dolcetto and '18 Roussanne
$38 Chardonnay & Christmas Pourer (retail $63): '18 Chardonnay
$95 Tres Pinot (retail $156): '18 Pinot Noir Reserve (3)
---
Virtual Happy Hour This Week @ 5 pm Friday!
Mr Winemaker is kicking off the new year with a discussion of Roussanne!
---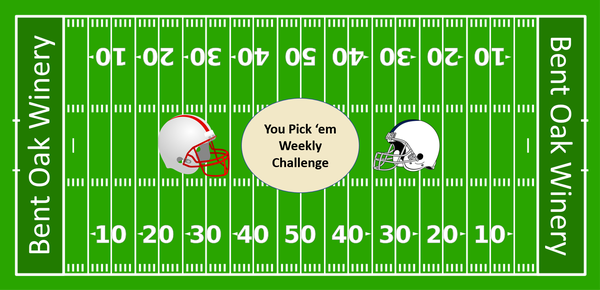 Are you ready for some football?
Week 17 winds up with a tie breaker with 14 correct. Larry Ketchersid won the tiebreaker and a bottle of 2018 Lone Star Cuvee. Larry, please stop by the Tasting Room to pick up your winning bottle.
This is the last week of the regular season, but it is never too late to get in on the fun for this week and the playoffs. You select the winners of each game and enter the total score of the Sunday Night game. A bottle of 2019 Tempranillo to the Week 18 winner! Get your entry in before the games begin on Saturday. Note: No Thursday or Monday night games this week.
Bent Oak Winery NFL You Pick 'Em Game
---
Upcoming Dates
Check out these important dates!
Smooth Jazz Sunday (2:00-5:00):
February 6th, Rodney Howell
Wine Down Fridays (3:30-6:30):
January 7th, Heath Ham
January 14th, Trevor Helt
January 21st, Jordan Hasto
January 28th, James Hearne
January Wine Club Pick Up Party Options - SAVE THE DATES:
Saturday, January 29th, 1:00 to 2:30 pm
Saturday, January 29th, 3:00 to 4:30 pm
Sunday, January 30th, 1:00 to 2:30 pm
Sunday, January 30th, 3:00 to 4:30 pm
---
Reservations are recommended and online ordering with contactless curbside pickup remains available.
WED-SAT 1:00-7:00 PM
SUN 12:30-5:00 PM
We hope you find this email informative and we look forward to seeing you soon!
Cheers,
The Bent Oak Winery Team
Comments
Commenting has been turned off.