November 10, 2021 | Debbie Bruce
20211110 Weekly News Splash
As COVID cases continue to drop in Travis and Williamson counties, we ask those who have not yet been fully vaccinated to wear a mask.
---
SPECIALS
Food
Come on in for one our most popular food offerings: Frito Chili Pie!
Wine
We are changing the glass specials this week and are including our Thanksgiving package specials to get you ready for the big day! Our Pinot Noir and Viognier are the perfect pairings for your Thanksgiving dinner but we have other great options as well.
Tasting Menu::
2018 Chardonnay CA (2 Silver, 2 Bronze)
2019 Viognier TX (new release) (1 Double Gold, 3 Gold, 2 Silver, 2 Bronze)
2018 Pinot Noir Reserve CA (1 Double Gold, 5 Silver, 3 Bronze)
2019 Sangiovese TX (2 Gold, 2 Silver, 2 Bronze)
2019 Aglianico TX (new release) (1 Gold)
Glasses $7:
2018 Chardonnay CA
2019 Sangiovese TX
Bottles: none
Packages:
$49 Twin Gold (retail $70): 19 Aglianico and Sangiovese
$57 Zin to Win (retail $92): 18s Zin and Zin Reserve
$58 Double Gold Duo (retail $82): 18 Pinot Noir Reserve and 19 Viognier TX
$58 Thanksgiving Zin & Chard PK (retail $84): 18s Zin Reserve & Chardonnay
$61 Thanksgiving CA Friends 2 PK (retail $88): 18 Pinot Noir Reserve & 19 Viognier CA
$100 Thanksgiving Family 4 PK (retail $146): 18 Pinot Noir Reserve, 19 Viognier TX, 18 Lone Star Cuvee, & 18 Vesenillo
$154 Thanksgiving Love 6 PK (retail $226): 18 Pinot Noir Reserve (2), 19 Viognier TX (2),18 Lone Star Cuvee, & 18 Vesenillo
---
Virtual Happy Hour This Week @ 5 pm Friday!
John will be discussing Trebbiano this week!
---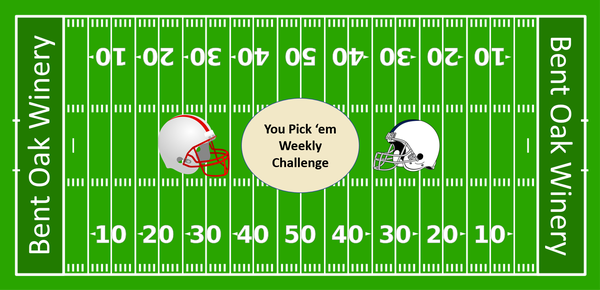 Are you ready for some football?
Week 9 gave us an out right winner with 10 correct. Kathy Bonardi won a bottle of 2019 Aglianico. Kathy, please stop by the Tasting Room to pick up your bottle of wine.
If you haven't played yet, it is not too late to join us for the weekly NFL You Pick 'Em game. You select the winners of each game and enter the total score of the Monday Night game. A bottle of 2019 Sauvignon Blanc to the Week 10 winner! Get your entry in before the Thursday night game and good luck! (Note: You can modify the Sunday games until the 1st game starts on Sunday. Also, you can still enter if you miss Thursday night but Thursday will not count for you).
Bent Oak Winery NFL You Pick 'Em Game
---
Upcoming Dates
Check out these important dates!
Wine Down Fridays:
November 12th, Trevor Helt
November 19th, Jazz Daddies
November 26th, Jim Bryant
Smooth Sax Sunday:
Bent Oak favorite, Rodney Howell, returns every 1st Sunday beginning December 5th!
Bent Oak Winery Events - Save the Dates:
November 13th, Fall Festival - tickets are not required to attend the festival
Sip & Shop - Calling all makers! Still some spots left so reserve your spot!
Chili Cookoff - contestants reserve your spot!
November 29th and 30th - Christmas Craft Nights
December 12th - Cookie Swap
---
The Tasting Room is open at 100% capacity. Reservations are recommended and online ordering with contactless curbside pickup remains available.
WED-SAT 1:00-7:00 PM
SUN 12:30-5:00 PM
We hope you find this email informative and we look forward to seeing you soon!
Cheers,
The Bent Oak Winery Team
Comments
Commenting has been turned off.