November 3, 2021 | Monthly Newsletter | Debbie Bruce
20211103 Get Bent Newsletter Volume 2021-11
As COVID cases continue to drop in Travis and Williamson counties, we ask those who have not yet been fully vaccinated to wear a mask.
---
SPECIALS
Food
Sister Winemaker is rustling up a Pierogie & Kielbasa Casserole that is sure to please. Get some cheesy comfort while supplies last!
Wine
No changes for this week as we continue to showcase our two new wines and present 5 of the 8 wines in the October Wine Club release. All of these wines are highly regarded in the industry with 4 out of 5 holding gold or double gold medals.
Tasting Menu::
2018 Chardonnay CA (2 Silver, 2 Bronze)
2019 Viognier TX (new release) (1 Double Gold, 3 Gold, 2 Silver, 2 Bronze)
2018 Pinot Noir Reserve CA (1 Double Gold, 5 Silver, 3 Bronze)
2019 Sangiovese TX (2 Gold, 2 Silver, 2 Bronze)
2019 Aglianico TX (new release) (1 Gold)
Glasses $7:
2019 Viognier TX
2019 Aglianico TX
Bottles: none
Packages:
$49 Twin Gold (retail $70): 2019 Aglianico and Sangiovese
$57 Zin to Win (retail $92): 2018s Zin and Zin Reserve
$58 Double Gold Duo (retail $82): 2018 Pinot Noir Reserve and 2019 Viognier Texas
---
Virtual Happy Hour This Week @ 5 pm Friday!
We are back with education this week so join us and find out what John will discuss.
---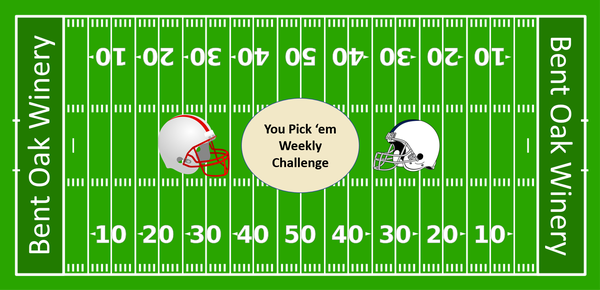 Are you ready for some football?
Week 8 gave us a tie with 10 correct and Nikki Houston won the tiebreaker and a bottle of 2018 Trebbiano. Nikki, please stop by the Tasting Room to pick up your bottle of wine.
If you haven't played yet, it is not too late to join us for the weekly NFL You Pick 'Em game. You select the winners of each game and enter the total score of the Monday Night game. A bottle of 2019 Aglianico to the Week 9 winner! Get your entry in before the Thursday night game and good luck! (Note: You can modify the Sunday games until the 1st game starts on Sunday. Also, you can still enter if you miss Thursday night but Thursday will not count for you).
Bent Oak Winery NFL You Pick 'Em Game
---
Upcoming Dates
Check out these important dates!
Wine Down Fridays:
November 5th, Heath Ham
November 12th, Trevor Helt
November 19th, Jazz Daddies
November 26th, Jim Bryant
Bent Oak Winery Events - Save the Dates:
November 13th, Fall Festival - tickets are not required to attend the festival
Sip & Shop - Calling all makers! Still some spots left so reserve your spot!
Chili Cookoff - contestants reserve your spot!
---
The Tasting Room is open at 100% capacity. Reservations are recommended and online ordering with contactless curbside pickup remains available.
WED-SAT 1:00-7:00 PM
SUN 12:30-5:00 PM
We hope you find this email informative and we look forward to seeing you soon!
Cheers,
The Bent Oak Winery Team
Comments
Commenting has been turned off.