September 8, 2021 | Debbie Bruce
20210908 Weekly News Splash
Based on State and County public health guidance, the Bent Oak team is masking up although fully vaccinated. Please wear a mask until your order is taken and replace your mask whenever you leave the table.
---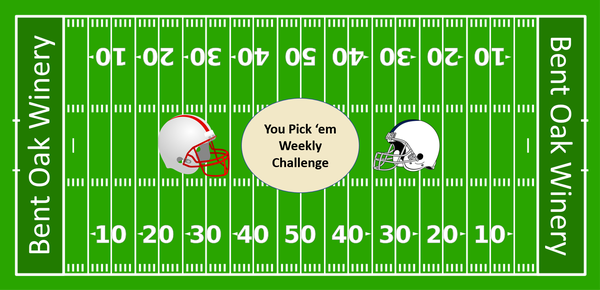 Are you ready for some football?
Finally the NFL Season is upon us! Join us for the weekly NFL You Pick 'Em game. You select the winners of each game and enter the total score of the Monday Night game. A bottle of 2018 Blanc du Bois to this weekend's winner! Below is the link to the Week 1 entry form. Get your entry in before the Thursday night game and good luck! (Note: You can modify the Sunday games until the 1st game starts on Sunday).
---
SPECIALS
Food
Bryan is whipping up one of his favorite recipes, Barbacoa Street Tacos. What a great way to kick off the NFL Season with some tacos!
Special for Friday through Sunday:
$ 6 Barbacoa Street Tacos
$10 Barbacoa Street Tacos with Wine Pairing
Wine
This is the last week for this tasting menu and package specials, but we are changing the glasses to represent our favorite NFL teams! We'll see if your glass purchases will indicate success during the season!
Tasting Menu:
2018 Blanc du Bois TX
2018 Chardonnay CA Chalk Hil
2018 Viognier TX High Plains
2019 Sangiovese TX High Plains
2018 Cabernet Sauvignon CA Alexander Valley
Glasses:
$7 Cowboys - Debenezer - 2019 Sangiovese
$10 Dolphins - Mr. Winemaker - 2018 Zin Reserve
$7 Dolphins - Sister Winemaker - 2019 Tempranillo
$7 Packers - Mrs. Winemaker - 2018 Chardonnay
$10 Texans - Director of Operations - 2018 Cab Reserve
Bottles - none this week.
Packages:
$33 Pool Pounders (retail $48): 2018 BDB & 2019 Rosé
$45 Red, White, and Rosé (retail $64): 2019 Wild Eye Red, 2018 BDB, and 2019 Rosé
$55 BBQ Buddies (retail $78): 2019 Dolcetto, 2019 Tempranillo, 2019 Wild Eye Red
$105 Grillin' & Grinnin' (retail $154): 2018 CA Cab & 2019 CA Viognier and 2019 TX Cab & 2018 TX Viognier
$105 Texas Summer 6-Pack (retail $154): 2018 BDB, 2019 Rosé, 2018 Roussanne, 2019 Sauvignon Blanc, 2018 Trebbiano, and 2018 TX Viognier
---
Harvest Update
Harvest is now in full swing in Texas and just getting started in California. So far, these are the varietals we have in fermentation:
3 Tons of Sauvignon Blanc (TX)
2 Tons of Viognier (TX)
3 Tons of Pinot Noir (CA)
3 Tons of Trebbianno (TX) - received 9/5
3 Tons of Roussanne (TX ) - received 9/5
3 Tons of Dolcetto (TX) - received 9/5
1 Ton of Rosé of Dolcetto (TX) & Trebbiano (TX) - received 9/5
Friday night virtual happy hours will resume after harvest has settled down a bit!
---
Last Weekend for July WC Pick Up
You have until September 12th to pick up your wine during our normal business hours either by reservation or curbside pick up. Get your wine ASAP so you can enjoy our Gold Medal winner 2019 Sangiovese!
---
Upcoming Dates
Check out these important dates! Get your tickets for our Fall Craft Night - very limited seating!
September 10th, Wine Down Friday Music: Trevor Helt
September 13th, Private Event
September 24th, Wine Down Friday Music: Jim Bryant
September 24th, Private Event after hours
September 28th, Fall Craft Night - tickets available HERE
---
The Tasting Room is open at 100% capacity. Reservations are recommended and online ordering with contactless curbside pickup remains available. Reminder: please wear a mask until your order is taken and then any time you leave the table.
WED-SAT 1:00-7:00 PM
SUN 12:30-5:00 PM
We hope you find this email informative and we look forward to seeing you soon!
Cheers,
The Bent Oak Winery Team
Comments
Commenting has been turned off.