August 11, 2021 | Weekly News | Debbie Bruce
20210811 Weekly News Splash
Based on the State and County public health guidance, the Bent Oak team is masking up although fully vaccinated. We are asking that you wear a mask until your order is taken and to replace your mask whenever you leave the table.
---
SPECIALS
Food
Chef Bryan is putting together his summer special BOW-Wow Cobb Salad. Mixed greens, grilled chicken, hard-boiled eggs, crumbled bacon, grape tomatoes, and a delicious cheese blend. Served with a slice of cheese toast and herb vinaigrette. You know it will pair well!
Specials for Friday through Sunday:
$ 6 BOW-Wow Cobb Salad
$10 BOW-Wow Cobb Salad with Wine Pairing
Your two favorites from Audrey and Marilee are available this week while supplies last:
$ 5 Sister Winemaker's Bag of Sweet and Spicy Pecans
$10 Mrs. Winemaker's 8 oz jar of Jalapeño Jelly ($7 for the 6 oz jar)
Wine
We are sticking with all of the specials from last week. It's hard to go wrong with these specials to wind down the summer and grilling season!
Tasting Menu:
2018 Blanc du Bois TX
2018 Viognier TX High Plains
2018 Chardonnay CA Chalk Hill
2019 Sangiovese TX High Plains
2018 Cabernet Sauvignon CA Alexander Valley
Glasses:
$7 2018 Blanc du Bois TX
$10 2018 Cabernet Sauvignon CA Alexander Valley
Bottles - none this week.
Packages:
$33 Pool Pounders (retail $48): 2018 BDB & 2019 Rosé
$45 Red, White, and Rosé (retail $64): 2019 Wild Eye Red, 2018 BDB, and 2019 Rosé
$55 BBQ Buddies (retail $78): 2019 Dolcetto, 2019 Tempranillo, 2019 Wild Eye Red
$105 Grillin' & Grinnin' (retail $154): 2018 CA Cab & 2019 CA Viognier and 2019 TX Cab & 2018 TX Viognier
$105 Texas Summer 6-Pack (retail $154): 2018 BDB, 2019 Rosé, 2018 Roussanne, 2019 Sauvignon Blanc, 2018 Trebbiano, and 2018 TX Viognier
---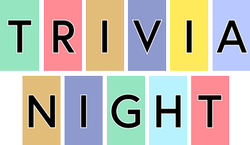 Grab your fully vaccinated friends to form a team or join up with a group and make new friends! Join us on Tuesday, August 24th from 6:30 pm – 8:30 pm, doors open at 6:15 pm. A fun night of entertainment for $20 members/$25 non-members per ticket which includes a glass of wine and light snacks.
---
Summer Olympics Pick'em Winner
We hope this pick'em game was a fun way to watch and track the Olympics! Mark Crowley was our big winner with 460 Total Points based on his country selections of Japan, Great Britain, Italy, Canada, Jamaica, Croatia, Uzbekistan, Serbia, Ireland, and Chinese Taipei. Mark, please stop by to pick up your bottle of Sangiovese.
Stay tuned for the NFL Pick'em games as it will not be long now!
---
Virtual Happy Hour This Week @ 5 pm Friday!
John will discuss grape ripening assessment as we move towards harvest.
---
July Wine Club Pick Ups Outstanding
If you have not picked up your wine yet, please do so as soon as possible! You have until August 29th to pick up your wine during our normal business hours either by reservation or curbside pick up. Get your wine ASAP so you can enjoy our Gold Medal winner 2019 Sangiovese - a great summer red!
---
Upcoming Dates
Check out these important dates:
August 13th, Wine Down Friday Music: Joey Kipfer
August 20th, Wine Down Friday Music: Mitch Chandler
August 24th, Trivia Night
August 27th, Wine Down Friday Music: The Reen
September 3rd, Wine Down Friday Music: Heath Ham
---
The Tasting Room is open at 100% capacity. Reservations are recommended and online ordering with contactless curbside pickup remains available. Reminder: please wear a mask until your order is taken and then any time you leave the table.
WED-SAT 1:00-7:00 PM
SUN 12:30-5:00 PM
We hope you find this email informative and we look forward to seeing you soon!
Cheers,
The Bent Oak Winery Team
Comments
Commenting has been turned off.