July 21, 2021 | Weekly News | Debbie Bruce
20210721 Weekly News Splash
COVID WARNING!
Our customers' and our team's health and well-being is a primary concern here at Bent Oak Winery. With Williamson County at Risk Level 5/Red for Community Spread, and Travis County just announcing Risk Level 4/Orange, our team is masking up. We are asking our customers to wear masks until your order is taken and to replace your mask whenever you leave the table.
We are just as disappointed as you! However, we want to take care of the entire Bent Oak Family - young, old, and in-between. Thank you for your cooperation!
---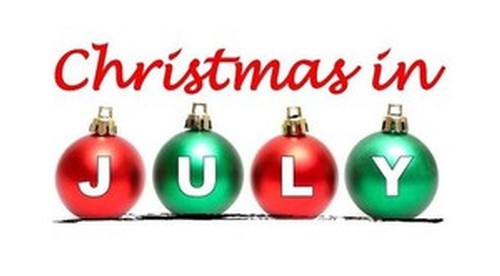 Get a head start on your holiday shopping or just get something for yourself! Please join us for Christmas in July (July 21st through August 1st) and take advantage of our special offers!
SPECIALS
Food
Chef Bryan is excited to present a Peach Caprese Salad. This gives us the green and red for Christmas in July, but the Peach keeps in the summer aspect! This salad is sure to pair well with our tasting menu lineup.
Specials for Friday through Sunday:
$ 6 Peach Caprese Salad
$10 Peach Caprese Salad with Wine Pairing
Your two favorites from Audrey and Marilee are available again this week while supplies last:
$ 5 Sister Winemaker's Bag of Sweet and Spicy Pecans
$10 Mrs. Winemaker's 8 oz jar of Jalapeño Jelly ($7 for the 6 oz jar)
Wine
The Tasting Menu remains the same, but the glass and package specials have all changed for Christmas in July!
Tasting Menu:
2018 Roussanne TX High Plains
2018 Chardonnay CA Chalk Hill
2019 Rosé TX High Plains
2019 Dolcetto TX High Plains
2019 Sangiovese TX High Plains
Glasses:
$7 2018 Chardonnay CA Chalk Hill
$7 2019 Dolcetto TX High Plains
$7 2019 Rosé TX High Plains
Bottles - none this week.
Packages:
$38 Chardonnay & Christmas Pourer (retail $63): 2018 Chardonnay & Christmas Pourer (Reindeer, Santa, or Christmas Tree)
$50 Dreaming of a White Christmas (retail $78): 2018s: Roussanne, Trebbiano, and TX Viognier
$100 We Three Red Kings.... (retail $146): 2018s: Cabernet Sauvignon Reserve, Pinot Noir Reserve, and Zinfandel Sonoma County
$202 Case 2018 Sauvignon Blanc (retail $336) $16.83 a bottle vs. retail $28 a bottle
$375 Case 2017 Cabernet Sauvignon Reserve (retail $624) $31.25 a bottle vs retail $52 a bottle (Last 4 cases)
20% off all Merchandise
---
Summer Olympics Pick'em Pool
We have set up an online Olympics Pick'em Pool at RunYourPool named 'Bent Oak Winery 2021 Olympics'.
Summer Olympics Pool Rules:
Members are given 325 credits. Credits are used to create a roster of countries.
Countries more likely to win medals cost more credits.
Members may have as few as 3 countries or as many as 10 on a roster.
Points are awarded each time a picked country wins a medal (3 points for Gold, 2 points for Silver, 1 point for Bronze).
The winning roster is the one with the most points at the end of the Olympics and a will get a bottle of wine!
---
Events
Tuesday, July 27th, Christmas in July Craft Night - 6:00pm to 8:00 pm -$10 member/$15 non-members - Get into the spirit during Christmas in July at Bent Oak Winery (even though it is more than 90 degrees outside!). Join us for a casual workshop and make some cork ornaments and key chains. Your ticket includes a glass of wine and all crafting materials. Snacks will be available for purchase. Get your tickets HERE.
Sunday, August 1st, Canine Companions Yappy Hour - Support Canine Companions and DogFest Austin on Sunday, August 1st from 12:30 - 5:00 PM at Bent Oak Winery for an all-day Yappy Hour! Bent Oak Winery will be donating 5% of all sales that day. Canine Companions is a nonprofit that trains and provides service dogs to those in need completely free of charge. Come out and meet Canine Companion puppy raisers and graduates along with Kodiak's and Raina's comrades in service; learn more about Canine Companions and DogFest Austin; donate if you can; and enjoy fine wine!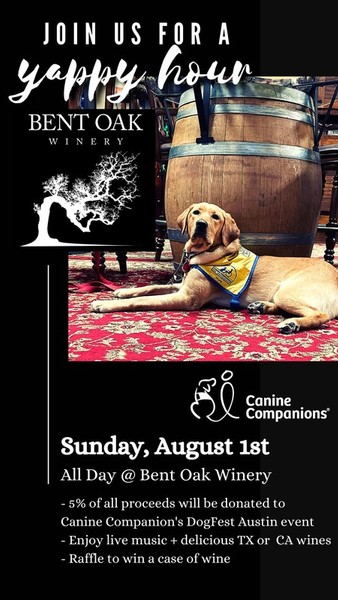 Get your 50/50 raffle ticket for $10 or 3 tickets for $25 for a chance to win a case of Bent Oak Wine! This is a mixed case of award-winning wine of 6 reds and 6 whites. The case consists of the following wines: 2018 Blanc du Bois, 2018 Chardonnay, 2018 Roussanne, 2018 Sauvignon Blanc, 2018 Trebbiano, 2018 TX Viognier, 2018 Cabernet Sauvignon Reserve, 2019 Dolcetto, 2018 Pinot Noir Reserve, 2019 Sangiovese, 2019 Tempranillo, and 2018 Zinfandel Sonoma County.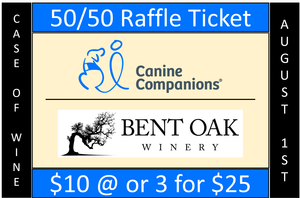 ---
No Virtual Happy Hour This Week
We are taking a virtual happy hour break for a few weeks.
---
July Wine Club Pick Ups Outstanding
If you have not picked up your wine yet, please do so sooner than later! However, you have until August 29th to pick up your wine during our normal business hours either by reservation or curbside pick up. Get your wine ASAP so you can enjoy our Gold Medal winner 2019 Sangiovese which is a great summer red!
---
Upcoming Dates
Check out these important dates:
July 23rd, Wine Down Friday Music: Jim and Hilary
July 27th, Christmas in July Craft Night
July 27th & 28th, Bottling California Reds
July 30th, Wine Down Friday Music: Jazz Daddies
August 1st, Canine Companions Yappy Hour
---
The Tasting Room is open at 100% capacity. Reservations are recommended, walk-ins are on a first-come-first-served basis, and online ordering with contactless curbside pickup remains available. Reminder: please wear a mask until your order is taken and then any time you leave the table.
MON - TUE 1:00-5:00 PM are curbside only
WED - SAT 1:00-7:00 PM
SUN 12:30-5:00 PM
We hope you find this email informative and we look forward to seeing you soon!
Cheers,
The Bent Oak Winery Team
Comments
Commenting has been turned off.