May 19, 2021 | Weekly News | Debbie Bruce
20210519 Weekly News Splash
NEW AWARDS
Yesterday, we were excited to learn we had won the following awards form the 2021 TEXSOM International Wine Awards competition. These 8 awards brings our total to 203 medals in 5.5 years. This is the first time we have received Platinum medals which are higher than Gold Medals. The competition awarded 1814 medals out of the 2390 entries: 51 Judges' Selection medals, 89 Platinum medals, 189 Gold medals, 731 Silver medals, and 805 Bronze medals.
Sauvignon Blanc, Texas High Plains, 2019, Platinum Medal
Blanc du Bois, Texas, 2019, Platinum Medal
Zinfandel, Reserve, Russian River Valley, 2018, Silver Medal
Trebbiano, Texas High Plains, 2019, Bronze Medal
Viognier, Texas, Texas High Plains, 2019, Bronze Medal
Viognier, Russian River Valley, 2019, Bronze Medal
Pinot Noir, Reserve, Russian River Valley, 2018, Bronze Medal
Chardonnay, Chalk Hill, 2019, Bronze Medal
---
MASK UPDATE
What's all this talk about the new CDC guidelines on masks? We are following the Travis County's risk-based mask guidance (Currently at Stage 2) now that more and more of us are getting vaccinated. As you can see in the graphic below, the Stage 2 Dining guidelines mean that partially vaccinated & unvaccinated folks are wearing masks for a little while longer.
In accordance with our road to normalcy, we will re-assess our limits on capacity and other COVID protocols around June 1st.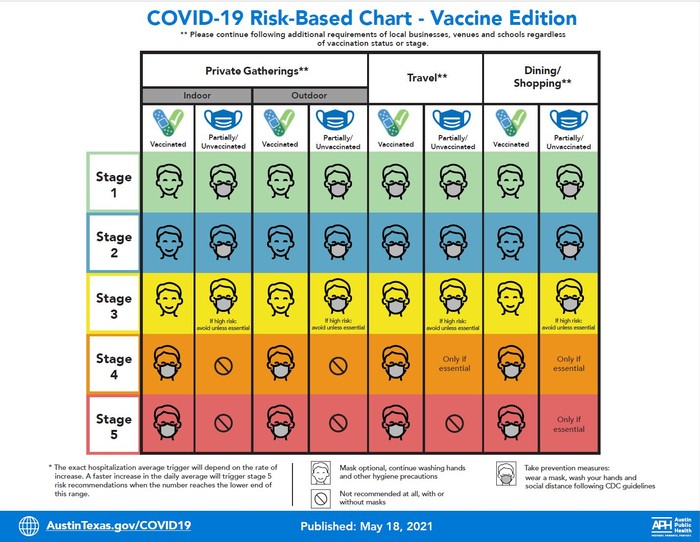 ---
SPECIALS
Food
Sister Winemaker is bringing you her take on Outrageous Warm Chicken Nachos Dip. We taste tested last weekend and this rocks with the Sauvignon Blanc and Zinfandel Reserve. Come on in to see what everyone is raving about!
Specials for Friday through Sunday:
$ 6 Outrageous Warm Chicken Nachos Dip
$10 Nachos with Wine Pairing
Your two favorites from Audrey and Marilee are available again this week while supplies last:
$ 5 Sister Winemaker's Bag of Sweet and Spicy Pecans
$10 Mrs. Winemaker's 8 oz jar of Jalapeño Jelly ($7 for the 6 oz jar)
Wine
No changes to the tasting menu. Glass specials are new and with all the packages this week we are not having any single bottle specials. But I am sure there is at least one bottle special that works for you! Think Memorial Day celebrations!
Tasting Menu:
2018 Blanc du Bois TX
2019 Sauvignon Blanc TX High Plains
2019 Rosé TX High Plains
2018 Pinot Noir Reserve CA Russian River Valley
2019 Tempranillo TX High Plains
Glasses:
$ 7 2019 Sauvignon Blanc TX High Plains
$10 2018 Zinfandel Reserve CA
Bottles - none this week.
Packages - get ready for summer, BBQ season, and fun around the pool:
$26 2018 BDB + Wine Cooling Sleeve (retail $39)
$33 Pool Pounders (retail $48): 2018 BDB & 2019 Rose
$45 Red, White, and Rose (retail $$64): 2019 Wile Eye Red, 2018 BDB, and 2019 Rose
$55 BBQ Buddies (retail $78): 2019 Dolcetto, 2019 Tempranillo, 2019 Wild Eye Red
$57 Zin to Win (retail $92): 2018 Zin and 2018 Zin Reserve
$105 Grillin' & Grinnin' (retail $154): 2018 CA Cab & 2019 CA Vio and 2019 TX Cab & 2018 TX Vio
$105 Texas Summer 6-Pack (retail $154): 2018 BDB, 2019 Rose, 2018 Roussanne, 2019 Sauvignon Blanc, 2018 Trebbiano, and 2018 TX Vio
$216 Closeout Case of 2018 Sauvignon Blanc (retail $336)
$384 Closeout Case of 2017 CA Cabernet Sauvignon (retail $624)
Note: in honor of Kodiak's 3rd birthday watch for a special on the web and in the tasting room on Saturday.
---
April Wine Club Pick Ups Outstanding
If you have not picked up your release yet, you have until May 23rd to pick up your wine during our normal business hours either by reservation or curbside pick up. Get your wine ASAP so you can enjoy our gold medal winners 2019 Sauvignon Blanc and Tempranillo!
---
Virtual Happy Hour This Week @ 5 pm Friday!
Join us this week for some fun - not sure what yet - scavenger hunt maybe - what do you have at your house that could win you a prize? And maybe a little trivia too!
---
Upcoming Dates
Check out these important dates:
May 21th, Friday Music: Cara Elizabeth
May 28th, Friday Music: Seth Cardoza
June 4th, Friday Music: Heath Ham
June 11th, Friday Music: Tyler Hardy
June 18th, Friday Music: Mitch Chandler
June 25th, Friday Music: Joey Kipfer
---
As noted above, the Tasting Room is open at 75% capacity, reservations are recommended due to limited space, and online ordering with contactless curbside pickup remains available. Reminder: For your safety and ours (we will be wearing our masks) we ask that partially vaccinated & unvaccinated guests wear a mask until your order is taken and then any time you leave the table.
MON - TUE 1:00-5:00 PM are curbside only
WED - SAT 1:00-7:00 PM
SUN 12:30-5:00 PM
We hope you find this email informative and we look forward to seeing you soon!
Cheers,
The Bent Oak Winery Team
Comments
Commenting has been turned off.