February 10, 2021 | Weekly News | Debbie Bruce
20210209 Weekly News Splash
---

---
News You Can Use
As we roll through 2021 we are constantly evaluating our products, processes, and procedures to see how we can improve all aspects of our business. Earlier this year we decided to be open 7 days a week to be able to provide you wine everyday whether that was curbside only like on Monday and Tuesday or adding a full day in the Tasting Room like on Wednesday.
This month we are going to discontinue the free shipping for members and the $5 for non-members. We are going back to full shipping charges unless you order 4 bottles or more. In that case, the shipping charges will be $5 for members and $10 for non-members.
---
WINE with FOOD or MERCHANDISE
in the Tasting Room
Chef Bryan is at it again this week with his outrageously delicious smoked salmon deviled egg with a chocolate dipped strawberry. While not the traditional Valentine's fare you cannot go wrong with this selection and it pairs wonderfully with our sparkling Lone Star Cuvee! Check out the new selections we are introducing this week brought to you by Mrs. Winemaker and Sister Winermaker. Get yours today as these are sure to be big hits for your valentine!
$ 6 Smoked salmon deviled egg & chocolate dipped strawberry
$10 Egg & Strawberry with Wine Pairing
$12 Member / $15 Non-member Glass with Hummus Plate, Spirals, or Corkscrew
$35 Texas Bottle with Charcuterie Plate or Tumbler
$50 California Bottle with Bent-O-Box or Aerating Pourer (not Chirpy)
New items for Valentine week:
$ 3 Mrs. Winemaker's Chocolate Dipped Pretzel Rod
$ 7 Sister Winemaker's Bag of Sweet & Spicy Pecans
$10 Mrs. Winemaker's Jar of Jalapeno Jelly
This is the tasting menu running through February: 2018 Blanc du Bois, 2018 Roussanne, 2019 Dolcetto, 2018 Zinfandel, and 2019 TX Cabernet Sauvignon.
Bottle specials and our Valentine's packages
If wine is your valentine, then we've got you covered with the following specials! In view of the upcoming cold, and potentially snowy, weather for Valentine's Day, order the Lover's Combo which is 2 tastings to go with chocolate & cheese pairings then add a Vesenillo for dessert. Relax by the fire and leisurely enjoy your Lover's Combo. Since we may be snowed in, don't forget some additional wine to get you through the snow event.
Bottles:
$15 2018 Blanc du Bois TX (retail $24)
$16 2019 Dolcetto TX High Plains (retail $26)
$19 2018 Vesenvillo TX High Plains (retail $28)
$24 2018 Cuvee TX High Plains (retail $38)
Packages:
$35 2018 Cuvee TX High Plains and 2 Logo Flutes (retail $55)
$55 Valentines Package: 2018 Cuvee TX High Plains, 2 Logo Flutes, and Delysia Chocolates (retail $85)
$60 Sparkling, Red, and Rosé: 2018 Cuvee TX High Plains, 2019 Dolcetto TX High Plains, and 2019 Rosé TX High Plains (retail $88)
$55 Lover's Combo: 2 - Tastings to Go with cheese & chocolate pairings (retail $74):

2 - Tastings to Go of 5 wines each person
2 - Cheese Pairings of 5 cheeses each person
2 - Chocolate Pairings of 5 chocolates each person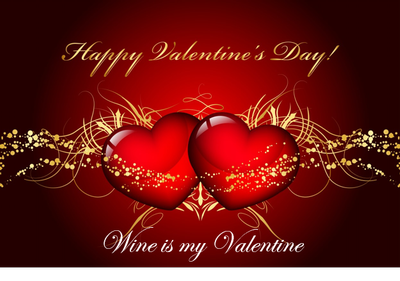 ---
Super Bowl Squares Winners
We hope everyone enjoyed participating in our NFL weekly games. The Super Bowl Squares topped off the season with the following winners: 1st Quarter - John Fivecoats wins 2 stemless glasses, 2nd Quarter - Patrick Hight wins 2 stemless glasses , 3rd Quarter - Steve Hanes wins 2 stemless glasses, and the 4th Quarter - Steve Hanes (again as there was no scoring in the 4th quarter) wins a bottle of 2019 Dolcetto. The winners can stop by the winery to pick up their winnings at any time during our normal operating hours.
---
Virtual Happy Hour
We'll get back to education this week with a discussion on our 2019 Dolcetto from the Texas High Plains.
---
Wine Club Release Pickups
You should have received a reminder email this week if you have not picked up yet. We look forward to seeing you curbside or in the Tasting Room on or before February 21st!
Pick up wines at 2B (Tasting Room) through Sunday, February 21st:

Tasting Room: You can make a RESERVATION Wednesday through Saturday 2:00-7:00 PM and Sunday 1:00-5:00 PM.
Curbside Pickup: Sunday through Tuesday 1:00-5:00 PM or Wednesday through Saturday 2:00-7:00 PM. You can schedule your pick up date and time by clicking PICK UP and remain in your car when you arrive in the parking lot. Call or text us at 512-673-8250 and we will deliver your order to your car.
Important information on local shipping if you do not pick up by Sunday, February 21st:
Sunday, February 21st is the last day for local members to pick up your wine selections before shipping begins.
Tuesday, February 23rd we will begin processing shipping charges for local members failing to pick up by February 21st deadline.
Thursday, February 25th shipments will go out to all the local members who did not pick up.
---
Per TABC, State, and Williamson County directives, the Tasting Room is open at 50% capacity and by reservation only - we cannot accept walk-ups - and online ordering & contactless, curbside pickup remains available.
SUN - TUE 1:00-5:00 PM

MON & TUE are curbside only

WED - SAT 2:00-7:00 PM
We hope you find this email informative and we look forward to seeing you soon!
Cheers,
The Bent Oak Winery Team
Comments
Commenting has been turned off.