February 3, 2021 | Monthly Newsletter | Debbie Bruce
20210203 Get Bent Newsletter Volume 2021-02
WINE with FOOD or MERCHANDISE in the Tasting Room
We are starting early on tailgating for the Super Bowl with Chef Bryan's Loaded Tailgate Nachos all week! On Super Bowl Sunday we will also be serving up Mr. Winemaker's beer brats.
$6 Loaded Taligate Nachos (all week)
$10 Nachos with Wine Pairing (all week)
$6 Beer Brats (Super Bowl Sunday only)
$10 Brats with Wine Pairing (Super Bowl Sunday only)
$12 Member / $15 Non-member Glass with Hummus Plate, Spirals, or Corkscrew
$35 Texas Bottle with Charcuterie Plate or Tumbler
$50 California Bottle with Bent-O-Box or Aerating Pourer (not Chirpy)
We are introucing 2019 Dolcetto and TX Cabernet Sauvignon to our tasting menu. This is the new tasting menu starting this week running through February: 2018 Blanc du Bois, 2018 Roussanne, 2019 Dolcetto, 2018 Zinfandel, and 2019 TX Cabernet Sauvignon.
New wine specials this week including our Valentine's packages
Bottles:
$15 2018 Blanc du Bois TX High Plains (retail $24)
$16 2019 Dolcetto TX High Plains (retail $26)
$24 2018 Cuvee TX High Plains (retail $38)
Packages:
$35 2018 Cuvee TX High Plains and 2 Logo Flutes (retail $55)
$55 Valentines Package: 2018 Cuvee TX High Plains, 2 Logo Flutes, and Delysia Chocolates (retail $85)
$60 Sparkling, Red, and Rosé: 2018 Cuvee TX High Plains, 2019 Dolcetto TX High Plains, and 2019 Rosé TX High Plains (retail $88)
$55 Lover's Combo: 2 - Tastings to Go with cheese & chocolate pairings (retail $74):

2 - Tastings to Go of 5 wines each person
2 - Cheese Pairings of 5 cheeses each person
2 - Chocolate Pairings of 5 chocolates each person
---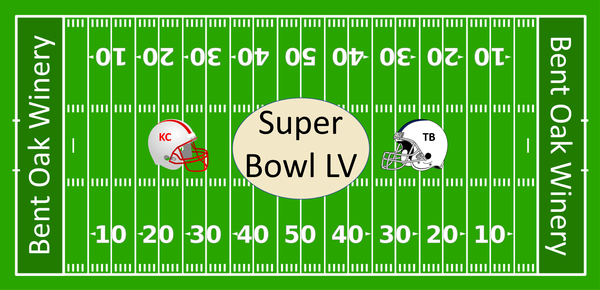 Get Your Square in the Bent Oak Winery Squares Pool
Get 1 or 2 complimentary squares for a chance to win prizes for each quarter ending with the chance to win a bottle of 2019 Dolcetto for the final score winner. Click HERE, get your login, and select your squares. *Don't forget your login as we will use this platform for future football pools and other events, too.*
Super Bowl Sunday Pre-Game Tailgate
Let's get this party started Sunday afternoon! We have lots of fun activities, food, and of course awesome wine as we party our way through the afternoon in anticipation of the big game! Get your reservations HERE.
Can Wine Predict the Super Bowl Winner?
Wine challenge (Glass Special $7) - place your vote for the Super Bowl winner by selecting a wine under your favorite team. We will tally the glasses at the end of the day and let you know if Bent Oak Winery predicted the winner of the Super Bowl.
| | |
| --- | --- |
| Kansas City Chiefs | Tampa Bay Bucs |
| TX Blanc du Bois | TX Roussanne |
| TX Dolcetto | TX Cabernet Sauvignon |
Activities for Each Reservation Time Slot:
Most Enthusiastic Fan - Wear your favorite jersey, including face paint, hair dye, or any other crazy costumes to celebrate the Super Bowl. The person who is the most enthusiastic fan in each reservation time slot will get to do a spin-to-win.
Football Trivia - Get your Trivia sheet to complete at your table. The person with the most correct points wins a prize.
Football Crossword Puzzle - The first person to complete their sheet wins.
We hope you enjoy our line up of fun activities and will get your pregame partying on before your Super Bowl watch parties. We are looking forward to safely partying with you on Sunday!
---
Virtual Happy Hour
Join us for Trivia this week where there are sure to be questions including the Super Bowl and it's respective teams. Links to the trivia forms to complete will be sent out on Friday afternoon just before the virtual happy hour begins.
---
Wine Club Release Pickups
Thanks to everyone who has picked up so far and we look forward to seeing the rest of you curbside or in the Tasting Room on or before February 21st!
Pick up wines at 2B (Tasting Room) through Sunday, February 21st:

Tasting Room: You can make a RESERVATION Wednesday through Saturday 2:00-7:00 PM and Sunday 1:00-5:00 PM.
Curbside Pickup: Sunday through Tuesday 1:00-5:00 PM or Wednesday through Saturday 2:00-7:00 PM. You can schedule your pick up date and time by clicking PICK UP and remain in your car when you arrive in the parking lot. Call or text us at 512-673-8250 and we will deliver your order to your car.
Important information on local shipping if you do not pick up by Sunday, February 21st:
Sunday, February 21st is the last day for local members to pick up your wine selections before shipping begins.
Tuesday, February 23rd we will begin processing shipping charges for local members failing to pick up by February 21st deadline.
Thursday, February 25th shipments will go out to all the local members who did not pick up.
---
Per TABC, State, and Williamson County directives, the Tasting Room is open at 50% capacity and by reservation only - we cannot accept walk-ups - and online ordering & contactless, curbside pickup remains available.
SUN - TUE 1:00-5:00 PM

MON & TUE are curbside only

WED - SAT 2:00-7:00 PM
We hope you find this email informative and we look forward to seeing you soon!
Cheers,
The Bent Oak Winery Team
Comments
Commenting has been turned off.