January 27, 2021 | Weekly News | Debbie Bruce
20210127 Weekly News Splash
WINE with FOOD or MERCHANDISE in the Tasting Room
Please join us in the tasting room this week for Sister Winemaker's Loaded SWEET Potato & Sausage Soup paired with our awesome wines!
$6 Loaded Sweet Potato & Sausage Soup
$10 Soup with Wine Pairing
$12 Member / $15 Non-member Glass with Hummus Plate, Spirals, or Corkscrew
$35 Texas Bottle with Charcuterie Plate or Tumbler
$50 California Bottle with Bent-O-Box or Aerating Pourer (not Chirpy)
This is the last week for this tasting menu: 2018 Trebbianno, 2018 TX Viognier, 2019 Wild Eye Red, 2018 Zinfandel, and 2017 CA Cabernet Sauvignon.
New wine specials this week
$15 2018 Trebbiano TX High Plains (retail $24)
$14 2019 Wild Eye Red TX High Plains (retail $20)
---
Wine Club Release Pickups
Thanks to everyone who has picked up so far and we look forward to seeing the rest of you this week!
Pick up wines curbside at 18B (Operations Building) scheduled for each club:

Saturday, January 30th from 2:00-7:00 PM

3-Bottle Club
Any club member who has not picked up yet can come this date

Sunday, January 31st from 1:00-5:00 PM

4-Bottle Club
Any club member who has not picked up yet can come this date

Pick up wines at 2B (Tasting Room) Wednesday, January 20th through Sunday, February 21st:

Tasting Room: You can make a RESERVATION Wednesday through Saturday 2:00-7:00 PM and Sunday 1:00-5:00 PM.
Curbside Pickup: Sunday through Tuesday 1:00-5:00 PM or Wednesday through Saturday 2:00-7:00 PM. You can schedule your pick up date and time by clicking PICK UP and remain in your car when you arrive in the parking lot. Call or text us at 512-673-8250 and we will deliver your order to your car.
Important information on local shipping if you do not pick up by Sunday, February 21st:
Sunday, February 21st is the last day for local members to pick up your wine selections before shipping begins.
Tuesday, February 23rd we will begin processing shipping charges for local members failing to pick up by February 21st deadline.
Thursday, February 25th shipments will go out to all the local members who did not pick up.
---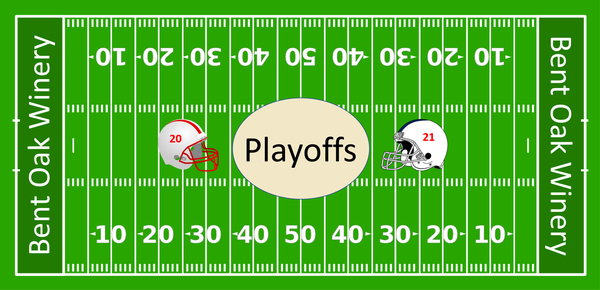 Are you ready for some football?
We had a 2-way tie with both games correct for 44 players. Congratulations go to Paul Russo as the tiebreaker winner and recipient of a bottle of 2018 Petit Verdot. Paul please stop by and pick up your wine when you get a chance.
Stayed tuned for our Super Bowl Squares game for a chance to win a bottle of 2019 Dolcetto for the final score winner and maybe other prizes for the winners of each quarter! We are testing several platforms this week to determine which one is the best for us to use.
Also note we will be having our pre-game tailgate fun on Sunday the 7th so get your reservations today! We will be serving John's beer brats and Bryan's queso. And I am sure we will have games throughout the day.
---
Virtual Happy Hour
Join Mr. Winemaker as he discusses dormant pruning and prepping the vineyard for the next growth season.
---
Per TABC, State, and Williamson County directives, the Tasting Room is open at 50% capacity and by reservation only - we cannot accept walk-ups - and online ordering & contactless, curbside pickup remains available.
SUN - TUE 1:00-5:00 PM

MON & TUE are curbside only

WED - SAT 2:00-7:00 PM
We hope you find this email informative and we look forward to seeing you soon!
Cheers,
The Bent Oak Winery Team
Comments
Commenting has been turned off.