January 5, 2021 | Monthly Newsletter | Debbie Bruce
20210105 Get Bent Newsletter Volume 2021-01

---
New Operating Hours
We are excited to announce our new operating hours for 2021. Now you can get Bent Oak Wine 7 days a week! Reservations for the Tasting Room are available *Wednesday* through Sunday. Online ordering with curbside pickup works, too!
Monday, 1:00-5:00 PM - Curbside Only (starting January 11th)
Tuesday, 1:00-5:00 PM - Curbside Only (starting January 12th)
Wednesday, 2:00-7:00 PM
Thursday, 2:00-7:00 PM
Friday, 2:00-7:00 PM
Saturday, 2:00-7:00 PM
Sunday, 1:00-5:00 PM
We look forward to seeing you in the Tasting Room or Curbside any day of the week!
---
The holidays are over but we still have a few specials for you this week!
$15 2018 Trebbiano Texas High Plains (retail $24)
$28 2018 Zinfandel CA Sonoma County (retail $42)
$30 "Combo:" Tasting to Go with Glass + Cheese & Chocolate Pairings (retail $37)

5 wines, 5 cheeses, and 5 chocolates
reminder: please put estimated pickup day & time in the order notes so we can pour the wines fresh beforehand without your having to wait
WINE with FOOD or MERCHANDISE in the Tasting Room
Check out Ms. Winemaker's pulled pork sliders!
$6 Pulled Pork Sliders
$10 Pulled Pork Sliders with Wine Pairing
$12 Member/$15 Non-member Glass with Hummus Plate, Spirals, or Corkscrew
$35 Texas Bottle with Charcuterie Plate or Tumbler
$50 California Bottle with Bent-O-Box or Aerating Pourer (not Chirpy)
The tasting menu remains the same this week: 2018 Trebbianno, 2018 TX Viognier, 2019 Wild Eye Red, 2018 Zinfandel, and 2017 CA Cabernet Sauvignon. We look forward to seeing you in the tasting room soon!
---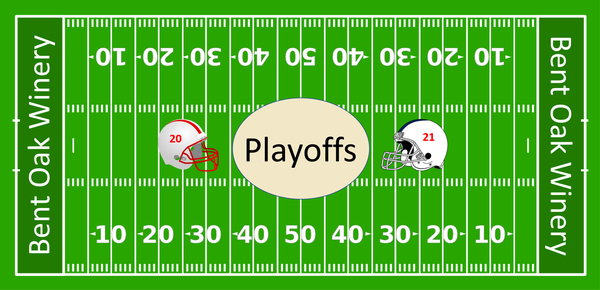 Are you ready for some football?
We had an outright winner with 15 correct for 44 players. Congratulations this week goes to Mark Winter as the winner of a bottle of 2019 Rosé. Mark, stop by and pick up your wine during our normal working hours listed above.
Join us for the Wild Card Weekend games of the NFL You Pick 'Em Game. You select the winners and total score of each game. With so few games this week we will need total scores to use as tiebreakers. A bottle of 2019 Wild Eye Red to this weekend's winner! Below is the link to the pick 'em entry form. Games start on Saturday so get your picks in before the first game!
NFL Wild Card Weekend You Pick 'Em Entry Form
---
Virtual Happy Hour
Password is NewYe@r!
That's NewYear with an @ (at sign) and an ! (exclamation point)
We hope you had a great holiday season and are ready to join us this week for wine education with a blending discussion.
---
Wine Club Release
All wine club members should have received an email yesterday with the wines selected for this release and important dates associated with this release. If you did not receive an email, please let us know immediately by sending an email to WineClub@BentOakWinery.com.
Please note the January release processing will begin on Monday, January 18th. If you would like to change your wine club membership to Mixed, Red-only, or White-only, please click HERE, but please do so BEFORE the 18th.
---
The Tasting Room remains open by reservation only - we cannot accept walk-ups - and curbside pickup continues. Normal business hours for tasting room and curbside are Wednesday through Saturday 2:00-7:00 PM and Sunday 1:00-5:00 PM. We are maintaining the 50% occupancy to keep you and our team safe!
We hope you find this email informative and we look forward to seeing you soon!
Cheers,
The Bent Oak Winery Team
Comments
Commenting has been turned off.