December 29, 2020 | Debbie Bruce
20201229 Weekly News Splash and Happy New Year

Holiday Schedule
Happy New Year! We will have "Sunday Hours" for New Year's Eve. Make a reservation and join us for a glass of wine as we say good riddance to 2020. We will be closed New Year's Day. The reservation system reflects the schedule below so get your reservation! Online ordering with curbside pickup works, too!
Thursday, 12/31, New Year's Eve - 1:00-5:00 PM Holiday Hours
Friday, 1/1, New Year's Day - Closed
Saturday, 12/26, 2:00-7:00 PM
Sunday 12/27, 1:00-5:00 PM
We wish you and your family a safe and Happy New Year!
---
Don't forget to stock up for that New Year's celebration even though it may be a virtual one! A great way to ring in the New Year is with our Tasting to Go Combo with the Cheese & Chocolate Pairings and to give a toast to 2021 with our Lone Star Cuvée!
We have the following specials this week:
$15 2018 Trebbiano Texas High Plains (retail $24)
$24 2018 Lone Star Cuvée Texas High Plains (retail $38)
$35 2018 Lone Star Cuvée & 2 Flute Glasses (retail $58)
$35 2017 Cabernet Sauvignon CA Russian River Valley (retail $52)
$30 "Combo:" Tasting to Go with Glass + Cheese & Chocolate Pairings (retail $37) - reminder: please put estimated pickup day & time in the order notes so we can pour the wines fresh beforehand without your having to wait
This is the last weekend for our special holiday packages:
$45 Red, White & Rosé - 2019 Wild Eye Red, 2018 Blanc du Bois, & 2019 Rosé (retail $64)
$50 Dreaming of a White Christmas - TX 2018s Roussanne, Trebbiano & Viognier (retail $78)
$90 We Three Zins ... - 2018 Zinfandel Reserves (2) and 2018 Zinfandel (retail $142)
$295 12 Bottles of Christmas and Decorated Box - (6 red and 6 white) (retail $437.95)
WINE with FOOD or MERCHANDISE in the Tasting Room
Bring good luck with the New Year with the Southern tradition of Black-eyed Peas and Cornbread!
$6 Black-eyed Pea Soup and Cornbread
$10 Black-eyed Pea Soup with Wine Pairing
$12 Member/$15 Non-member Glass with Hummus Plate, Spirals, or Corkscrew
$35 Texas Bottle with Charcuterie Plate or Tumbler
$50 California Bottle with Bent-O-Box or Aerating Pourer (not Chirpy)
The tasting menu is: 2018 Trebbianno, 2018 TX Viognier, 2019 Wild Eye Red, 2018 Zinfandel, and 2017 CA Cabernet Sauvignon. We look forward to seeing you in the tasting room soon!
---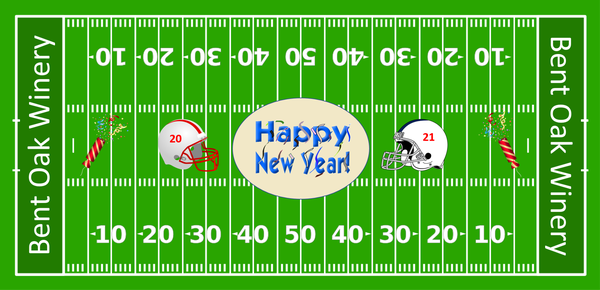 Are you ready for some football?
We had an outright winner with 14 correct for 38 players. Congratulations this week goes to Erin Hiserote as the winner of a bottle of '18 Zinfandel Sonoma County. Erin, let us know when you want to stop by and pick up your wine. Our holiday hours this week are Thursday (New Year's Eve) 1:00-5:00 PM, Friday (New Year's Day) closed, Saturday 2:00-7:00 PM and Sunday 1:00-5:00 PM.
Join us for Week #17 (the last week of the regular season) of the NFL You Pick 'Em Game. You select the winners of each game and enter the total score of the Sunday Night Football game. A bottle of '19 Rosé to this weekend's winner! Below is the link to the pick 'em entry form. All of the games are on Sunday this week so get your entries in by Sunday morning.
NFL Week #17 You Pick 'Em Entry Form
---
No Virtual Happy Hour
Join us after the new year as we kick off 2021 in Bent Oak style!
In the meantime, stay safe, social distance, and wear your mask as we want to see you in 2021!
---
The Tasting Room remains open by reservation only - we cannot accept walk-ups - and curbside pickup continues. Normal business hours for tasting room and curbside are Thursday through Saturday 2:00-7:00 PM and Sunday 1:00-5:00 PM and don't forget about Wine Down Friday music from 3:30-6:30 PM (see the Calendar of Events link at the bottom of the page)! We are maintaining the 50% occupancy to keep you and our team safe!
We hope you find this email informative and we look forward to seeing you soon!
Cheers,
The Bent Oak Winery Team
P.S. Wine Club members: Please note the 1st 2021 wine club release is January 24th so be watching your email for details.
Comments
Commenting has been turned off.