December 11, 2020 | Monthly Newsletter | Debbie Bruce
20201211 Get Bent Newsletter Volume 2020-12
---

The Sixth Day of Bent Oak Christmas Specials
Today is the sixth of Bent Oak Winery's 12 shopping days until Christmas. These should help us all enjoy the holiday season and maybe get some items checked off our shopping lists, too!
We have the following specials *today only*:
$16 2018 Roussanne Texas High Plains (retail $26 - 38% off)

Silver - 2020 San Francisco Chronicle
Silver - 2019 Lone Star International Wine Competition
Bronze - 2020 San Antonio Stock Show & Rodeo International Wine Competition

$13 2019 Wild Eye Red Texas High Plains (retail $20 - 35% off)
$27 2018 Roussanne & 2 Stemmed Glasses (retail $46)
$40 2017 Zin Reserve and 2 Stemless Glasses (retail $66)
$14 Cork Cages (retail $20)
$20 Chirpy Top - non-metallic - (retail $24.95)
These specials will run all weekend:
Get your Christmas shopping started! You cannot go wrong with any of these Christmas specials for that perfect someone!
$50 Dreaming of a White Christmas - TX 2018s Roussanne, Trebbiano, & Viognier (retail $78)
$90 We Three Zins ... - 2017 & 2018 Zinfandel Reserves, and 2018 Zinfandel (retail $142)
$295 12 Bottles of Christmas and Decorated Box - (6 red and 6 white) The perfect gift for the person who has everything and you haven't a clue what to get them! Comes in a nicely decorated and sturdy box with easy carrying hand holes. Each bottle has a tag with the number of the day, tasting notes, food pairing recommendations, and medals won. Note: One out of every 10 boxes will have a gift certificate for a 13th bottle of wine. (retail $437.95)

​On the first day: a corkscrew and a 2018 Blanc du Bois Texas (1 Silver, 2 Bronze Medals) in a Bent Oak Winery tree
On the second day: a 2018 Trebbiano Texas High Plains (2 Bronze Medals)
On the third day: a 2018 Chardonnay Chalk Hill (1 Silver, 1 Bronze Medal)
On the fourth day: a 2018 Petit Verdot Texas High Plains (2 Gold, 2 Silver, 1 Bronze Medals)
On the fifth day: a 2018 Viognier Texas High Plains (2 Silver, 2 Bronze Medals)
On the sixth day: a 2019 Wild Eye Red Texas High Plains
On the seventh day: a 2018 Sauvignon Blanc Texas High Plains (1 Silver, 2 Bronze Medals)
On the eighth day: a 2017 Cabernet Sauvignon Alexander Valley Reserve (1 Silver Medal)
On the ninth day: a 2018 Vesenillo Port Style Texas High Plains
On the tenth day: a 2018 Lone Star Cuvee Texas High Plains (Sparkling) (1 Bronze Medal)
On the eleventh day: a 2018 Pinot Noir Russian River Reserve (1 Double Gold, 2 Silver, 2 Bronze Medals)
On the twelfth day: a 2018 Zinfandel Russian River Valley Reserve (1 Silver, 4 Bronze Medals)

Merchandise:

$2.50 Hand Sanitizer (retail $5)
$20 Wooden Gift Boxes (retail $40)
$30 Gurgle Pot (retail $42)
25% off Leather Bottle Carriers
WINE with FOOD or MERCHANDISE in the Tasting Room
Mr. & Mrs. Winemaker collaborated on the sandwich this week! Note, the tasting menu changed today: 2018 Trebbianno, 2018 TX Viognier, 2019 Wild Eye Red, 2018 Zinfandel, and 2017 CA Cabernet Sauvignon.
$6 Roast Beef in a mushroom sauce on Ciabatta Bread
$10 Roast Beef Sandwich with Wine Pairing of a glass of Roussanne
$12 Member/$15 Non-member Glass with Hummus Plate, Spirals, or Corkscrew
$35 Texas Bottle with Charcuterie Plate or Tumbler
$50 California Bottle with Bent-O-Box or Aerating Pourer (not Chirpy)
---
New Product Introduction
The perfect complement to our Tastings To Go is our new Cheese & Chocolate pairing box for $17. You will recieve a to-go box with 5 cheeses and 5 chocolates perfectly paired with the wines in our Tastings To Go. For each pairing you will have 0.5 ounces of cheese and a chocolate. Now you can enjoy a wine tasting with a cheese & chocolate pairing in the comfort of your own home! Match up the number 1 through 5 on your tasting bottles and pairing box with the numbers on your tasting menu as you work your way through the wine pairings. With the holidays fast approaching, there are endless possibilities (virtual office parties anyone?)!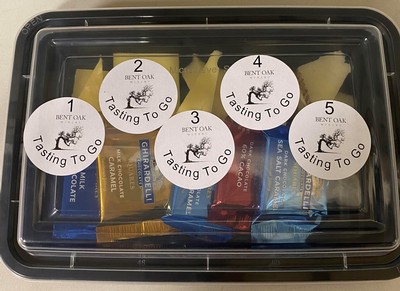 ---
Thank You!
We delivered your donations of unwrapped toys and canned goods to the Blue Santas of Cedar Park on Monday. Thanks so much for your generocity in this time of dire need!
On Sunday afternoon we had the drawings for the winners of the Mystery Packages. Debbie Harrington and Janice Lehman each recieved a 2018 Chenin Blanc and 2018 Mourvedre.
---
Virtual Happy Hour - Friday 5 to 6 PM Central
Join us for wine education this week as John discusses barrel aging.
---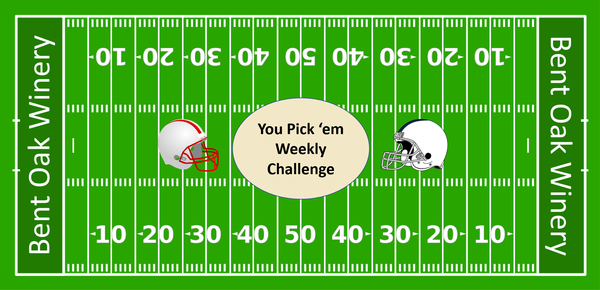 Are you ready for some football?
In case you missed it yesterday, we had 46 people participate in week #13 and a tiebreaker was needed to decide the winner of the 3-way tie with 12 correct! Congratulations to Paul Robert Russo for winning a bottle of 2018 Sauvignon Blanc.
Join us for Week #14 of the NFL You Pick 'Em game. You select the winners of each game and enter the total score of the Monday Night Football game. A bottle of 2017 Cabernet Sauvignon Reserve to this weekend's winner! Below is the link to the pick 'em entry form. Get your entry in before the game on tonight and good luck!
NFL Week #14 You Pick 'Em Entry Form
---
The tasting room remains open by reservation only - we cannot accept walk-ups - and curbside pickup continues. Business hours for tasting room and curbside are Thursday through Saturday 2:00-7:00 PM and Sunday 1:00-5:00 PM and don't forget about Wine Down Friday music from 3:30-6:30 PM! We are maintaining the 50% occupancy to keep you and our team safe!
We look forward to seeing you in the tasting room soon to celebrate the 12 days of Christmas Bent Oak style.
Cheers,
The Bent Oak Winery Team
Comments
Commenting has been turned off.