November 11, 2020 | Weekly News | Debbie Bruce
20201111 Weekly News Splash
Happy Veteran's Day from the Bent Oak Family

---
The tasting room remains open by reservation only - we cannot accept walk-ups - and curbside pickup continues. Business hours for tasting room and curbside are Thursday through Saturday 2:00-7:00 PM and Sunday 1:00-5:00 PM and don't forget about Wine Down Friday music from 3:30-6:30 PM! We are maintaining the 50% occupancy to keep you and our team safe!
---
Breaking News!!!!
Medals Awarded from Lone Star International Wine Competition
Gold Medal: 2019 Blanc du Bois
Silver Medals: 2019 Pinot Noir Reserve and 2019 Sauvignon Blanc
Bronze Medals: 2018 Zinfandel Reserve, 2019 CA Viognier, 2019 Dolcetto, 2019 Sangiovese, 2019 TX Viognier, and 2019 Trebbiano
---
Fall Festival
Join us this weekend, November 14th and 15th, for our Fall Festival which will be hosted outside, socially distanced, and with wine & food serving stations. Reservations are still required for the tasting room so we will not have the large back door open. No reservations or tickets are required for festival goers and you will remain outside unless you have a reservation for the tasting room. Remember to wear your mask!!
Sip and Shop - Saturday 1 to 6 PM
Calling all makers! It is not too late to get one of the few booths left, please reserve your space HERE. Bring your own table and 10x10 tent.
Shoppers: get all your Christmas shopping finished BEFORE Black Friday this year! With excellent wine specials and all sorts of hand-made items, you are sure to satisfy all the folks on your shopping list! Join us on Saturday, the 14th, for the 3rd Annual Sip & Shop from 1:00 to 6:00 PM. Check out our Facebook page for sneak peeks at all the cool stuff makers will be selling.
Chili Cook Off - Sunday 1 to 5 PM
Calling all cooks! It's not too late for you to enter your chili in our 1st Annual Chili Cook Off. We will have "official" judges, as well as people's choice, to determine the chili cook off winner. If you want to test out your chili recipe, enter early as we are only accepting 10 contestants for this year. Reserve your space and see the rules HERE.
Taste testers - Come hungry and participate in the People's Choice Awards where you all will decide the People's Choice winner.
---
Get into the Christmas Spirit
Calling all crafters! Get your tickets for the ever-popular Christmas Cork Craft nights on Tuesday, December 1st or Wednesday, December 2nd. You will need to decide which night to attend as well as which craft to make - Christmas Tree or 10-foot Garland. The tickets are separated by date and craft such as Tuesday Christmas Tree, Tuesday Garland, Wednesday Christmas Tree, or Wednesday Garland. We are limited in space for each night - don't delay get your ticket today! You can get your tickets HERE. Reserve early because, with social distancing requirements, space will be limited! Note: All ticket purchasers will receive an email in November to reserve a table.
---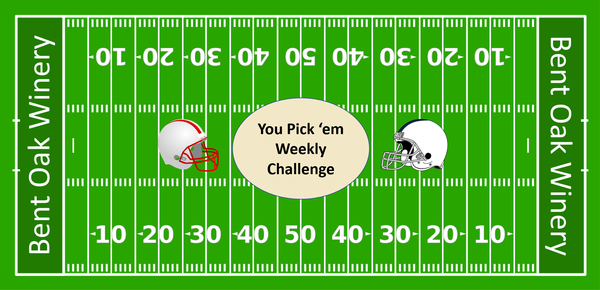 Are you ready for some football?
We had 56 people participate in week #9 which ended in a four-person tie with 12 correct and required use of the tiebreaker score to determine the winner. Congratulations to Natasha Cervantes for winning a bottle of Trebbiano.
Join us for Week #10 of the NFL You Pick 'Em game. You select the winners of each game and enter the total score of the Monday Night Football game. A bottle of 2017 Cabernet Sauvignon Reserve to this weekend's winner! Below is the link to the pick 'em entry form. Get your entry in before the Thursday night game and good luck! (Note: You can enter after Thursday night, but will have to take that game as a loss).
NFL Week #10 You Pick 'Em Entry Form
---
Specials for the Week
WINE with FOOD or MERCHANDISE
$6 Pulled Pork Sliders
$10 Pulled Pork Sliders & Wine Pairing
$12 Member/$15 Non-member Glass with Hummus Plate, Spirals, or Corkscrew
$35 Texas Bottle with Charcuterie Plate or Tumbler
$50 California Bottle with Bent-O-Box, Aerating Pourer (not Chirpy), Ship & Shop Booth, or Chili Cook Off entry
WINE TO GO or ALA CARTE in the Tasting Room
Lots of changes this week for the bottle specials and tasting menu. See below or check our specials on the WEBSITE or BLOG in case you delete this email. The website link will take you directly to the Gifts and Wine Packages page. Don't forget you can purchase gift certificates which can be used at any time in the future.
BOTTLES:
$16 – 2018 Trebbiano (retail $24)
$18 – 2018 Viognier TX (retail $28)
$36 – 2018 Pinot Noir (retail $52)
$14 – 2019 Wild Eye (retail $20)
$36 – 2017 Cabernet Sauvignon Reserve CA (Retail $52)
PACKAGES or CASES:
$58 Thanksgiving Zin & Chard 2 Pack - 2018s Zin Reserve & Chardonnay (retail $84)
$61 Thanksgiving CA Friends 2 Pack - 2018s Pinot Noir Reserve & CA Viognier (retail $88)
$100 Thanksgiving Family 4 Pack - 2018s Pinot Noir Reserve, TX Viognier, Lone Star Cuvee, & Vesenillo (retail $146)
$154 Thanksgiving Love 6 Pack - 2018s Pinot Noir Reserve (2), TX Viognier(2), Lone Star Cuvee, & Vesenillo (retail $226)
$20 Tasting to Go with Glass
$15 Tasting to Go without Glass
Case discounts for wines not on special (any 12 bottles or more):
Members get an extra 5% above their club discount
Non Members get 10% off
Don't forget about the free shipping for members and $5 shipping for non-members each with no minimum order requirements.
---
Virtual Happy Hour - Cancelled this week!
We are busy getting ready for this weekend's Fall Festival. We will catch you on Zoom next week!
---
We hope you find this email informative and we look forward to seeing you soon!
Cheers,
The Bent Oak Winery Team
Comments
Commenting has been turned off.