October 7, 2020 | Weekly News | Debbie Bruce
20201007 Weekly News Splash

Hi Folks,
Saturday, October 10th, marks the 5th anniversary of our Tasting Room opening. It is hard to believe it has been 5 years! Of course 2020 seems like more than just one year after being in this pandemic and dealing with all of the associated ups and downs. But seriously, none of us ever dreamed we would have progressed this quickly: wine production from 184 cases on opening day to 4,816 cases this year, 139 awards received, club members from 13 on opening day to about 600 members this year, and a single building to 3 buildings with the plans for constructing our own buildings.
We want to thank each and every one of you for supporting us along the Bent Oak Winery journey. We are truly blessed to have such wonderful friends in the Bent Oak Family!
Join us on Saturday in the tasting room for the following anniversary specials in addition to the existing weekly specials:
Sneakpeak of the 2019 Wild Eye Red (a blend of 50% Mourvedre, 45% Cabernet Sauvignon, and 5% Petit Verdot) - by the glass ($5)
Sneakpeak of the 2019 California Viognier - by the glass ($5)
Extra 5% off of bottles not already discounted
Chirpy Top (retail $24.95) - $20
Peek-A-Boo Stemless Glasses - $15 (retail $19.95)
T-Shirts - $15 (retail $22)
Gurgle Pot - $35 (retail $42)
there might be some Spin to Win opportunitites too - come on in
With the exception of the glass specials, the other anniversary specials are also available online for all of you who cannot make it to the winery on Saturday.
As a reminder, the tasting room is open by reservation only - we cannot accept walk-ups - and curbside pickup continues. We continue to operate under the TABC "51% Rule" which classifies us as a restaurant requiring non-wine purchases to be higher than the cost of the glass or bottle of wine. Business hours for tasting room and curbside are Thursday through Saturday 2:00-7:00 PM and Sunday 1:00-5:00 PM.
Don't forget about Wine Down Friday Music from 3:30-6:30 PM! Heath is joining us again this week, but you can see who is playing each week by reviewing the Calendar of Events at the link at the bottom of the page.
---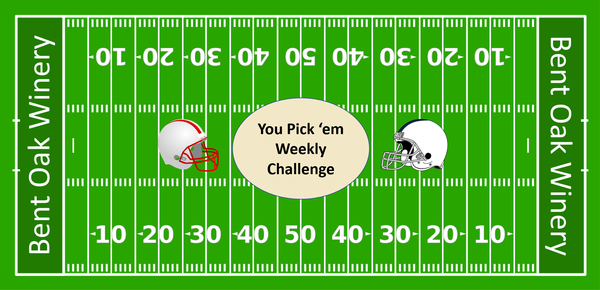 Are you ready for some football?
We had 53 people participate in week #4 which ended in a two-person tie and required use of the tiebreaker score to determine the winner. Congratulations to Phil Horwitch for getting 12 correct and having the exact total score of the tiebreaker game total score. Phil won a bottle of 2017 Zinfandel Reserve.
Join us for Week 5 of the NFL You Pick 'Em game. You select the winners of each game and enter the total score of the Monday Night Football game. A bottle of Chenin Blanc to this weekend's winner! Below is the link to the pick 'em entry form. Get your entry in before the Thursday night game and good luck! (Note: You can enter after Thursday night, but will have to take that game as a loss). The more the merrier so join us this week!
NFL Week #5 You Pick 'Em Entry Form
---
Specials for the Week
WINE with FOOD or MERCHANDISE
$6 Sloppy Joe
$10 Sloppy Joe & Wine Pairing
$12 Member/$15 Non-member Glass with Hummus Plate, Spirals, or Corkscrew
$35 Texas Bottle with Charcuterie Plate or Tumbler
$50 California Bottle with Bent-O-Box or Aerating Pourer (not Chirpy)
WINE TO GO or ALA CARTE in the Tasting Room
Lots of changes this week for the bottle specials and tasting menu. Summer is technically over but we are still featuring our whites to help you cool off! See below or check our specials on the WEBSITE or BLOG in case you delete this email. The website link will take you directly to the Gifts and Wine Packages page. Don't forget you can purchase gift certificates which can be used at any time in the future.
BOTTLES:
$14 – 2018 Chenin Blanc (retail $24)
$17 – 2018 Sauvignon Blanc (retail $28)
$14 – 2018 Blanc du Bois (retail $24)
$16 – 2018 Dolcetto (retail $26)
$30 – 2017 Zin Reserve (Retail $50)
PACKAGES or CASES:
$29 Texas Do-Si-Do - 2018's Blanc du Bois & Barbara (retail $50)
$90 Reserve Trio - 2017 Cab Reserve & Zin Reserve and 2018 Pinot Noir Reserve (retail $154)
$300 Case of 2017 Zin Reserve (retail $600)
$399 Case of 2017 Cab Reserve (retail $624)
$20 Tasting to Go with Glass
$15 Tasting to Go without Glass
Case discounts for wines not on special (any 12 bottles or more):
Members get an extra 5% above their club discount
Non Members get 10% off
Don't forget about the free shipping for members and $5 shipping for non-members each with no minimum order requirements.
---
Virtual Happy Hour - Friday 5 to 6 PM Central
We are back to wine education this week with John discussing the grape Chenin Blanc.
---
We hope you find this email informative and we look forward to seeing you soon!
Cheers,
The Bent Oak Winery Team
Comments
Commenting has been turned off.