October 1, 2020 | Monthly Newsletter | Debbie Bruce
20201001 Get Bent Newsletter Volume 2020-10

New Expanded Hours Beginning October 1st
We are starting Fall off right with our new expanded hours and our Wine Down (First) Friday. Per your long-time request, the first Friday of every month we will stay open a little later than normal to allow us to chill out while we listen to music. Be sure to check the events calendar to see our upcoming events including Wine Down Fridays.
You will note Thursday through Saturday are all the same hours now and only Sunday has a different schedule. Reservations are required.
Thursday, Friday, Saturdays: 2:00- 7:00 PM
Sundays: 1:00 PM - 5:00 PM
Wine Down (1st) Friday : 1st Friday of the Month (October 2nd): 2:00 - 8:30 PM with live music from 5:00 - 8:00 PM.
As a reminder the tasting room is open by reservation only at 50% occupancy - we cannot accept walk-ups - and curbside pickup continues. We are operating under the TABC "51% Rule" which requires non-wine purchases to be higher than the cost of the glass or bottle of wine. While the Governor authorized restaurants to increase to 75% occupancy, we decided to stay at 50% to ensure your safety and ours. Instead, we introduced the new expanded hours listed above.
The reservation time slots have changed to accommodate the new hours on Thursday through Saturday with 15-minute cleaning and sanitizing breaks in between:
2:00 to 2:45 PM (45 minutes)
3:00 to 4:00 PM (1 hour)
4:15 to 5:30 PM (1 hour & 15 minutes)
5:45 to 7:00 PM (1 hour & 15 minutes)
7:15 to 8:30 PM First Friday of the month only (1 hour & 15 minutes)
Click on the Book Your Reservation link near the bottom of the page under the Tasting Room to reserve your table/couch/loveseat today! We look forward to seeing you soon!
---
Spin-to-Win for the Preakness Stakes
We had so much fun with the Spin-to-Win for the Kentucky Derby, we are bringing it back for the 145th running of the Preakness Stakes! While you are in the Tasting Room, be sure to spin the wheel to find out the horse you are to cheer for during the running at the Pimlico Race Course in Baltimore, MD. Since we are staying open later we will actually get to watch the Preakness on Saturday afternoon around 5pm with the hype beginning at 3:30pm. If your horse wins, you will receive a red tumbler. If the filly wins, we will throw in a little something extra!
For those of you who are remote and cannot make it to the Tasting Room, you can still play. Unfortunately, we do not have the spinning wheel online, but we do have a random way for you to pick a horse by picking a number between 1 and 100. Each number will have a horse assigned and we will record your number and horse. The remote winner(s) will also receive a red tumbler and a little something special if the filly wins. Click on this link to enter your number and get your horse.
---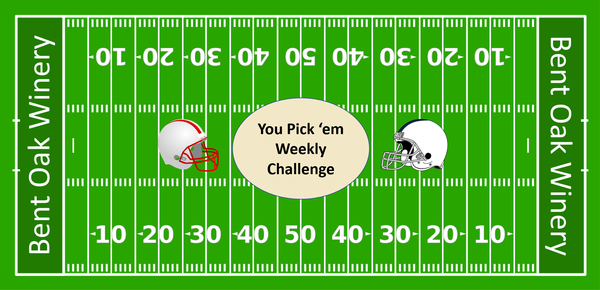 Are you ready for some football?
We had 52 people participate in week #3 which ended in a seven-person tie and required use of the tiebreaker score to determine the winner. Congratulations to Dan and Joyce Fitzgerald for getting 11 correct and having the exact score of the tiebreaker game total score for the win. They won a bottle of Sauvignon Blanc.
Join us for Week #4 of the NFL You Pick 'Em game. You select the winners of each game and enter the total score of the Monday Night Football game. A bottle of 2017 Zinfandel Reserve to this weekend's winner! Below is the link to the pick 'em entry form. Get your entry in before the Thursday night game and good luck! (Note: You can enter after Thursday night, but will have to take that game as a loss).
NFL Week #4 You Pick 'Em Entry Form
---
Specials for the Week
WINE with FOOD or MERCHANDISE
It's not just Soup Sunday, it's Soup Everyday this week!
$6 Butternut Squash Soup
$10 Butternut Squash Soup & Wine Pairing
$12 Member/$15 Non-member Glass with Hummus Plate, Spirals, or Corkscrew
$35 Texas Bottle with Charcuterie Plate or Tumbler
$50 California Bottle with Bent-O-Box or Aerating Pourer (not Chirpy)
WINE TO GO or ALA CARTE in the Tasting Room
Lots of changes this week for the bottle specials and tasting menu. Summer is technically over but we are still featuring our whites to help you cool off! See below or check our specials on the WEBSITE or BLOG in case you delete this email. The website link will take you directly to the Gifts and Wine Packages page. Don't forget you can purchase gift certificates which can be used at any time in the future.
BOTTLES:
$14 – 2018 Chenin Blanc (retail $24)
$17 – 2018 Sauvignon Blanc (retail $28)
$14 – 2018 Blanc du Bois (retail $24)
$16 – 2018 Dolcetto (retail $26)
$30 – 2017 Zin Reserve (Retail $50)
PACKAGES or CASES:
$29 Texas Do-Si-Do - 2018 Blanc du Bois & Barbara (retail $50)
$90 Reserve Trio - 2017 Cab Reserve & Zin Reserve and 2018 Pinot Noir Reserve (retail $154)
$300 Case of 2017 Zin Reserve (retail $600)
$399 Case of 2017 Cab Reserve (retail $624)
$20 Tasting to Go with Glass
$15 Tasting to Go without Glass
Case discounts for wines not on special (any 12 bottles or more):
Members get an extra 5% above their club discount
Non Members get 10% off
Don't forget about the free shipping for members and $5 shipping for non-members each with no minimum order requirements.
---
No Virtual Happy Hour this week
Due to Wine Down (1st) Friday, we will not be having the Virtual Happy Hour. We'll be back next week discussing Chenin Blanc.
---
We hope you find this email informative and we look forward to seeing you soon!
Cheers,
The Bent Oak Winery Team
Comments
Commenting has been turned off.